NHL
– Penguins' F Sidney Crosby (concussion/neck) will officially return to play on Thursday. In his first return attempt back in November, Crosby had two goals and four points, and finished with 12 points in eight games before going down again. It's an enormous boost for the Pens, especially given how good they've been even without Crosby in the lineup.
– F Sean Avery announced his retirement during the After Show segment of Watch What Happens Live. Host Andy Cohen posed a viewer question to him regarding his future.
"Sean, what are your thoughts about your hockey future?"
Avery, 31, responded by saying,
"I am officially retired; I threw my skates in the Hudson [River]."
He later added,
"No, that wasn't a joke, yes I'm retiring at end of season and its OK."
If true, the announcement would close out a tumultuous final season for Avery spent with the Rangers and their AHL affiliate, the Connecticut Whale. After being waived by the Rangers earlier this season, Avery was assigned to the Whale before re-joining New York on November 5. In 15 games with the Rangers this season, Avery scored 3 goals and registered 21 penalty minutes. As a member of the Whale he scored 2 goals and had 1 assist to go with 39 PIMs in seven games, though he was also a healthy scratch for several games with the team.  Avery last played for the Whale on January 27 and was not on the team's clear-day roster, making him ineligible for the AHL postseason. He has been told he no longer needs to report to the team.
In 580 games across parts of 10 seasons with New York, Dallas, Los Angeles and Detroit, Avery has 90 goals and 157 assists to go with 1,533 PIMs. His most productive season came in 2006-07 when he totaled 18 goals, 48 points and 174 penalty minutes in 84 games split between the Kings and Rangers.
– Panthers' F Krys Barch spoke out about headshots in the NHL:
"I don't know why you try to correct what's working. The hits are always part of the game. I had a twitter account a few years ago and you look at guys going over to Iraq and Afghanistan and they're doing it for their country and they're not getting compensated near as much as we are so why do we have to take less risks than them? That's part of the sport. We get paid huge money to do it and most of the time you get paid big money it comes with a lot of risks involved and we're compensated. We know that risk when we step on the ice so you go along with it, so everybody just shut up! These guys are going overseas spending nine months away from their wives and kids and risk their lives and do it for x amount of dollars, and we're going to sit here and cry because one guy's making $5M and he's out with a concussion then shame on us. Shame on us, that's what I think."
– Lightning' F Vincent Lecavalier (broken hand) might be able to return late next week. "I'm hoping. I want to play as soon as soon as possible but I have to be smart, too." Lecavalier still isn't able to shoot the puck, so clearly he's not 100% just yet.
NFL
– Saints signed WR Marques Colston to a 5-year contract. The Saints were "working feverishly" to re-sign him, and that Colston "badly" wanted to remain in New Orleans. Since the Saints were expected to enter free agency with roughly $7M in cap space, he'll earn a low base salary in 2012 before seeing his numbers steadily increase. Colston will turn 29 in June.
– The Bears have acquired WR Brandon Marshall from the Dolphins for a 2012 and 2013 3rd-round draft pick. It's a great move by the Bears, who re-unite Marshall with QB Jay Cutler. The 'Fins receiving corps is now very thin.
– ESPN's Adam Schefter has shot down the Texans as a potential suitor for free agent QB Peyton Manning. Schefter reports the Texans have "no plans" to pursue Manning despite two Monday reports that suggested otherwise. The Texans are believed to be high on Manning's wish list, but aren't willing to turn the page on QB Matt Schaub (Lisfranc surgery) as he rehabs. The Texans can be expected to pay Schaub's $500K roster bonus on Saturday.
– Cowboys released CB Terence Newman. The oft-injured 33-year-old didn't stand a chance of seeing his scheduled $6 million salary after being toasted routinely throughout the final two months of the season. The Cowboys will use the cap savings to target free agents Cortland Finnegan and Brandon Carr. Newman may have to take an incentive-laden deal on the open market.
– The Eagles have signed RT Todd Herremans to a 3-year/$21M contract extension. The deal includes $11M guaranteed, and locks Herremans up through 2016, when he will be 34. Herremans was switched from left guard to right tackle late in training camp last season and allowed just four sacks. LG Evan Mathis appears next on their priority list.
– The Giants have signed CB Terrell Thomas to a 4-year/$28M contract. The deal includes $11M guaranteed and an option year. Thomas is recovering from second torn right ACL. He has yet to resume sprinting, but is tentatively expected to be ready for training camp. CB Aaron Ross is now unlikely to be brought back. Thomas graded out as just the league's 60th best corner by Pro Football Focus in 2010 before missing all of 2011.
– The Chargers have released LT Marcus McNeill. McNeill was one of the league's more durable left tackles before signing a 6-year/$48.9M extension in October 2010, but has appeared in just 20 of a possible 32 games the past two seasons. He underwent two knee surgeries last offseason before a neck injury sent him to IR in November. He had a $10.5M salary for 2012.
– The Chargers have re-signed C Nick Hardwick, 31, to a 3-year/$13.5M contract.
MLB
– Braves' 3B Chipper Jones has clarified that the comments he made Monday about an early retirement were in jest. "I don't know if I can make it through this year," Chipper joked with a couple of reporters on Monday. Those comments were taken out of context, unfortunately. "It was tongue and cheek. I was kidding. I just got done playing eight innings with three at-bats. I was a little tired. I wasn't by any means suggesting I couldn't make it through the season. If I didn't think that I could, I wouldn't be out there."
– According to Mark Saxon of ESPN Los Angeles, the agent for Angels' SS Erick Aybar has arrived at Angels camp to engage in long-term contract negotiations. Aybar is currently scheduled to become a free agent five days after the conclusion of the 2012 World Series. The 28-year-old batted .289/.322/.421 with 10 home runs and 59 RBI in 605 plate appearances last year for Anaheim and would likely attract quite a bit of interest on the open market.
– D'Backs' manager Kirk Gibson told reporters Tuesday that he plans to push SS Stephen Drew (right ankle) "pretty good this week" to test the status of his ankle. Drew has been limited to only light jogging and weight room workouts since arriving in Diamondbacks camp due to lingering concerns about the ankle fracture that he suffered last July. If the 28-year-old is unable to appear in a Cactus League game soon, the Snakes will have no choice but to rule him out for Opening Day.
TNA
– TNA executive Eric Bischoff posted the following on his Facebook page late Monday night ripping TNA employee Jeremy Borash:
"Just had a beer here in Nashville. Bartender asked me I worked for the boss 'Jeremy Borash.' When I asked 'WTF' that was supposed to mean, I was told emphatically that Jeremy has represented himself as an 'owner' of TNA. Jeremy is a low rent bit player who should be fortunate he has a job."
In response to Bischoff's burial of Jeremy Borash, TNA star Brutus Magnus tweeted the following:
@JeremyBorash is 1 of the hardest working & loyal people TNA has ever had. Aren't ppl supposed to be MORE mature as time goes on, not less?
OHL
– Owen Sound Attack' F Mike Halmo has been suspended indefinitely by the OHL for his hit on Sting' F Nail Yakupov on Saturday.
FIFA
– The infamous headbutt by France's Zinedine Zidane on Italy's Marco Matterazzi has now become a sculpture. Check it out: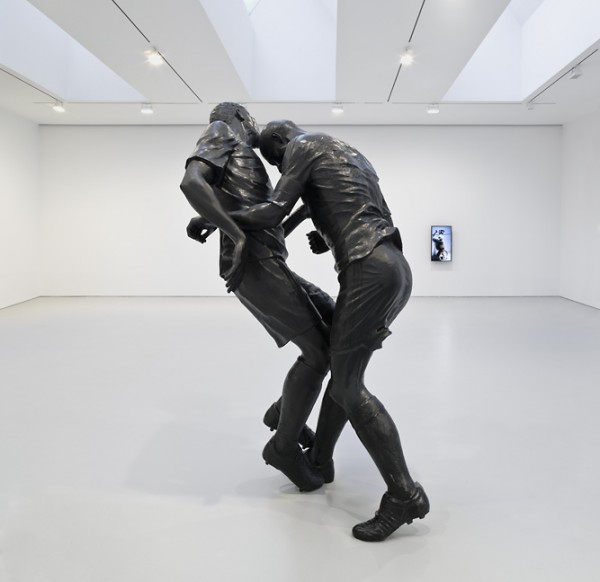 WWE
– The Rock tweeted the following message on Tuesday morningregarding Monday's RAW:
"Cleveland – thank U for an unforgettable & record setting night. Biggest sell out crowd in WWE history. #RockConcert2012."
http://www.youtube.com/watch?v=s0Opjfd4JI4&feature=related
– Ted DiBiase (ankle) is scheduled to have surgery today.
– Tyler Reks wants a spot on Team Long at WrestleMania 28. He tweeted on Tuesday:
"Teddy, me & @TheCurtHawkins want on ur team! We've been on RAW for a year and the only match we've had is w/ Brodus. Not cool, Johnny. #RAW"