NHL
– Flyers' G Ilya Bryzgalov sounded off Tuesday after the team's 4-1 loss to the Islanders. Bryzgalov, 32, was asked about the recent acquisition of G Steve Mason and the contract extension he received earlier this week, and whether or not he was worried about the possibility of a compliance buyout.
"To be honest, I don't care. Really, I don't care. I have no control on this, so why should I care?"

"You know, I have no control in this. I can't read the people's mind. I can't project things what they're thinking, that's why I'm not worried about things I can't control. I maybe want one thing and they want a different thing."
When asked if he'd enjoy his off day by heading to the Beach on Long Island, the Russian was quick to make light of the situation.
"You can call it whatever you want, but it's not a beach. A beach is somewhere in the Caribbean, somewhere in Florida where it's warm and you can swim. Here is dark water."
Bryz was signed to a 9-year/$51M contract by the Flyers in the summer of 2011, and has 7-years/$34.5M remaining on it. The salary cap is due to drop from $70.2M this season to $64.3M next season. He has a 17-15-3 record this season with an .896 SV% and a 2.88 GAA.
– The Canadiens have agreed to terms with G Peter Budaj on a 2-year/$2.8M contract extension. Budaj, 30, has played in eight games with the Habs this season, posting a 6-1-1 record with a 2.28 GAA, a .917 SV% and one shutout.
– Updating a previous item, Bruins' F Carl Soderberg could be in Boston by this weekend. The deal the two sides reached is for this season plus two more. He'll make $600K this season, including a $500K signing bonus, then $1M per season for each of the next two years.
– According to ESPN's Pierre LeBrun, the NHL, NHLPA, IOC and IIHF will meet Friday in New York City as they continue to negotiate regarding the NHL's involvement in the 2014 Sochi Olympics. Per LeBrun, issues still remain, and nothing is expected to be announced or agreed upon Friday.
– Canucks' F Alex Burrows told the Vancouver Sun Monday that he'd like to try and return one of Milos Raonic's serves. On Tuesday, Raonic tweeted: "Let's do it Alex!!!" Burrows added,
"It might happen, you never know. It would be something. I think I could handle one and then, on the next stroke, he'd probably kill me. But I would love to try. He's such a good server, probably the best in the world. Maybe if he served on skates, I would probably have a better chance."
Canucks' F Henrik Sedin, who has seen Burrows play tennis, rated his linemate's chance of returning a Raonic serve in one word.
"Impossible. I would love to see that because we played against Rebecca Marino and it was almost impossible to return her serve — and I think Raonic has a little faster serve than she does. Burr can play tennis, for sure, but I don't think he would have a chance if Raonic goes full out."
– Check out this funny parody video featuring Canucks' F Ryan Kesler saying Allen Iverson's famous line:
NFL
– The Patriots have agreed to terms with WR Julian Edelman on a 1-year contract. Edelman finished with 21 catches for 235 yards and three touchdowns in nine games in 2012, while averaging 15.5 yards per punt return with one punt return touchdown.
– The Patriots have submitted a 1-year offer sheet on Steelers' RFA WR Emmanuel Sanders. They'll have five days to match the offer, which may be tricky. If the Steelers don't match the offer for the 26-year-old, New England will forfeit a 3rd-round pick (No. 91 overall) in this month's draft and likely try to sign Sanders to a long-term contract.
– Free agent RB Bernard Scott (knee) will meet with the Raiders Wednesday and the Bengals later this week, according to USA Today. Scott, six months removed from an ACL tear, will go through some drills in Oakland to prove his health.
NHL
– Senators' D Erik Karlsson (torn Achilles) remains without a timetable, according to his agent Craig Oster. Oster told the Ottawa Citizen via email, "Erik is continuing to progress. He and the organization are going to ensure that he is fully healthy and at minimal risk of complications before he considers a return to play. The healing process seems to be going well. No definitive timelines." Karlsson hasn't played since February 13 when his left Achilles was cut by Penguins' F Matt Cooke's slate.
– Devils' F Ilya Kovalchuk (shoulder) skated again Wednesday during the team's optional practice. "We did definitely more shots and a little battle there at the end, so it's good. It feels good, so it's definitely a step in the right direction." Kovalchuk could return as early as Friday.
– According to the Pittsburgh Tribune-Review, Penguins' D Kris Letang (broken toe/groin) could return on Thursday or Saturday. Letang, who's been out for two weeks, says he hasn't suffered a setback despite being projected to miss 7-10 days. "I feel fine. It's good to be back practicing. I want to make sure I'm 100%."
MLB
– Yankees' SS Derek Jeter (ankle) has resumed on-field hitting, according to the AP. Jeter took 32 swings in batting practice Wednesday at the team's minor league complex, and also ran for the second consecutive day. The Yankees are reportedly aiming for him to be activated around May 1.
– Red Sox' DH David Ortiz (heels) will begin a minor league rehab assignment Thursday with Triple-A Pawtucket. Ortiz has been playing in extended spring training games this week without issue. Barring setbacks, he's expected back with the team next week.
– The Rangers have placed LHP Matt Harrison (lower back strain) on the 15-day DL retroactive to April 7.
– The Reds have placed LHP Sean Marshall (left shoulder tendinitis) on the 15-day DL retroactive to April 8. Marshall has been experiencing shoulder fatigue since the end of spring training.
WWE
– Following up on the news of The Rock being injured at WrestleMania, he tore his abdominal and abductor muscles, as well as his groin during his match against John Cena. He immediately flew home to be checked out by doctors and is heading overseas very soon to begin filming the movies Hercules. Initially, there was a lot of heat on The Rock, because it was unclear why he left town so abruptly when he was scheduled to appear on RAW. WWE's creative team was not informed that The Rock would not be on RAW until the afternoon, which required massive rewrites to the RAW script. Shortly before WWE Raw went on the air, ring announcer Justin Roberts addressed the live crowd explaining that The Rock suffered a strained abdominal muscle and he would not appear on tonight's show as previously advertised. Throughout the night, The Rock was booed by the live crowd whenever he was shown on the big screen.
According to the PWInsider, as of Tuesday night, it's believed The Rock will not require surgery to repair the injury. Any potential procedure would delay the shooting of his new movie Hercules, so if Rock does eventually need surgery, expect it to be held off until after shooting is complete.
– According to F4WOnline, Brock Lesnar was knocked out at WrestleMania 29 after a knee from Triple H about five minutes into their match. Lesnar was "out on his feet" and there is speculation that Lesnar suffered a concussion.
– According to F4WOnline, CM Punk (leg) underwent X-rays on Sunday night, which he may have injured in the top rope elbow table spot during his match with The Undertaker at WrestleMania 29. Punk reportedly will be undergoing an MRI this week, but will be at RAW next week. Punk was kept off of Monday's RAW to sell the effects of his match against Undertaker.
– According to F4WOnline, it's expected that WWE Champion John Cena will defend his title against Ryback at Extreme Rules on May 19. The seed for the feud was planted Monday with Ryback's apparent heel turn.
– WWE Champion John Cena spoke to HollywoodLife.com on Monday and revealed that he worked WrestleMania 29 with a broken thumb and food poisoning. Cena also appeared on The Crossover yesterday and said his favorite WrestleMania match other that his own was The Undertaker vs. CM Punk. "I thought it was great. I just didn't want it to end." When asked if that could have been The Undertaker's final match, Cena said, "I think he is going to show up for WrestleMania next year."
– Check out the video of Dolph Ziggler cashing in Money in the Bank on RAW:
Several WWE Superstars congratulated Ziggler on the title win. Here are some of their tweets:
John Cena: "No problem Champ! Congrats RT @HEELZiggler: "@JohnCena: Read all about it… The Champ returns to Boston's @tdgarden tonight for SmackDown!" – @BostonGlobe"

-thanks for the plug, bro"

AJ Lee: "Congratulations to my baby Ziggy @HEELZiggler . No one works harder or deserves it more. No one. I'm so happy right now."

Big E Langston: "Congratulations to the new World Heavyweight Champion @HEELZiggler. Best tag team partner/double dutcher/lasagna chef I've ever known."

Amy Schumer: "Um, @HEELZiggler i feel like we should get back together"

Edge: "Proud of my boy @HEELZiggler finally where he belongs. So deserving. Hard work pays off"

X-Pac: "@HEELZiggler I couldn't be happier for you. You deserve last night & much more. I'm not ashamed to say I marked out for that."

Curt Hawkins: "I hope all the guys on the @WWE roster see @HEELZiggler as a true inspiration. Because I certainly do."

Beth Phoenix: "Congrats to @HEELZiggler on his well deserved championship win! Looong overdue!"

Michael McGuillicutty "If seeing @HEELZiggler win the World Heavyweight Championship didnt give u goosebumps, something is wrong with u… What its all about! #WWE"

Carlito: "After carrying around the MITB briefcase for 8 years, he finally cashed it in to become WHC! Congrats Dolph Ziggler!"
As expected, the majority of the WWE locker room was very happy for Ziggler after his big World Heavyweight title win on RAW. Ziggler is seen as one of the real workhorses on the roster and has been working very hard to reach the main event level.
– Triple H tweeted this picture following his match with Brock Lesnar at WrestleMania 29, explaining what the white powder on his body was while he made his entrance:
For those wondering… Stuff stuck to me at mania was dry ice. Gave me 2nd degree burns on torso & arms pic.twitter.com/35Q4KUxcXo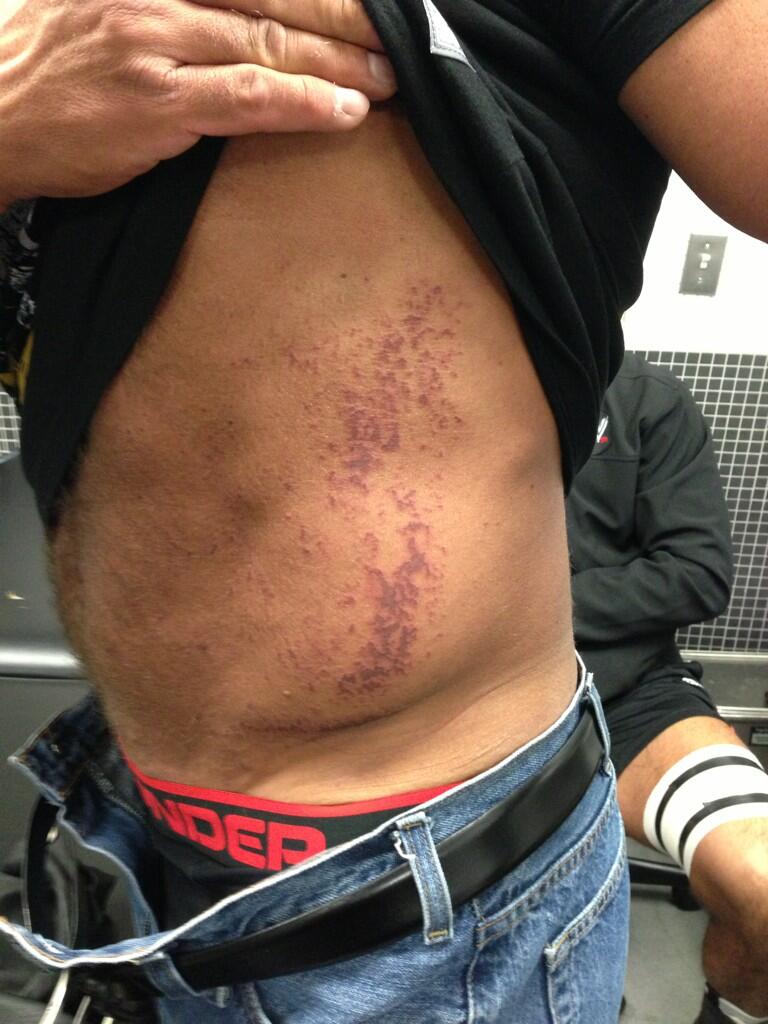 – Scott Hall underwent hip surgery this morning. Diamond Dallas Page tweeted the following update
RT @inspiredmovie: @SCOTTHALLNWO just got out of surgery & all went well! Surgeon said hip looked bad & now he should feel much better
Scott then followed up with the following:
Twitter World Order recovering in the hospital. So many prayers answered. Thanks… Egg whites soon…

Any dudes ever had a tube shoved up in your… you know? Not fun… removing it is gonna be worse. A small pain to endure to walk again…
– Monday's WWE RAW scored a Trendrr.tv social media score of 518,787, up a sharp 70 percent from last week. Raw ranked #1 on cable TV Monday night, but was crushed by the NCAA college basketball championship game on CBS, which had a social media score of over 2 million.
TVByTheNumbers reports that Monday's post-WrestleMania 29 edition of WWE RAW drew a 3.45 rating with 4.61 million viewers. This was up around 300,000 from last week, but probably not the strong showing WWE was hoping for. Here are the hourly numbers:
Hour 1: 4,490,000
Hour 2: 4,780,000
Hour 3: 4,560,000
– Check out Randy Orton forgetting his lines during a promo with Sheamus on Raw:
http://www.youtube.com/watch?v=UExJAJkZFEA
– According to F4WOnline, at one point, there was talk of Alberto Del Rio vs. Jack Swagger at Extreme Rules in a submission match, however, their feud now appears to be over.
– WWE Hall of Famer Mick Foley says the elbow drop he gave to Chris Jericho at the Hall of Fame ceremony was not scripted. Foley told Raj Giri of WrestlingINC:
"It came as a complete surprise to me, as did CM Punk coming out doing the very un-bad-guy thing with doing the three count and hugging me on stage. For that one night, there are no good guys and bad guys."
– During a recent interview with CBS0-19 in Cleveland, WWE Superstar Alex Riley was asked why he stopped appearing on television:
"I don't know, it's a very competitive company. There's a lot of people here and a lot of talent. So you have to constantly re-invent yourself and constantly be entertaining on a daily basis and find new ways to entertain and I'm trying to do that."

"I was shoved into a main event spot very early in my career, which I don't think a lot of people quite get that opportunity, so I was very lucky to get that opportunity. I wanna earn it, a lot of that had to do with Miz, so when I come back this time it's going to be all me and I want to earn it."
– According to F4WOnline, John Cena has been inviting many famous Boston natives to tonight's SmackDown tapings, including players from the Boston Red Socks and actors Mark Wahlberg and Ben Affleck may be there.
– The pre-game and post-game show that we saw at WrestleMania featuring Jim Ross, Dusty Rhodes, Scott Sanford and Kofi Kingston will be a part of all WWE pay-per-views moving forward, according to F4WOnline. No word on whether the hosts will stay the same, but expect to see the "analysts desk" format again.
– Check out John Cena's promo after Raw went off the air:
http://www.youtube.com/watch?feature=player_embedded&v=GcMJi1JUczE#!
– The WWE In Your House DVD and Blu-Ray will be released on April 30.
– Rey Mysterio was not in attendance for Monday's RAW from East Rutherford, New Jersey. He tweeted that he flew back home to San Diego on Monday afternoon.
– Check out the crazy fans from Raw chanting several different things during the show:
http://www.youtube.com/watch?v=rsBOiNAYWtM&feature=youtu.be
The crowd continued on the subway, singing Fandango's theme song:
According to the PWInsider, Vince McMahon enjoyed the rowdy crowd at RAW, even though they buried several matches and did their own thing for most of the night. It was understood at RAW that the post-WrestleMania show is comprised of die hard fans, many of whom travel from around the world to be in town that weekend. The song has been gaining mainstream attention now, as it's #14 on the UK Singles Charts under "ChaChaLaLa." Prior to the weekend, the song was outside the top 1,000.
– Jimmy Hart noted on Twitter that WWE officials are negotiating with Turner on ways they can release WCW theme songs.
– Here's the latest Backstage Fallout video from Monday's RAW:
– WWE will hold its annual shareholders meeting at WWE headquarters in Stamford, Connecticut on Friday, April 26.
– On Monday's RAW, Big E Langston accidentally knocked into AJ Lee while stretching before his match against Daniel Bryan. AJ Lee tweeted about the incident:
If I wasn't forced to wear a padded bra, that E backhand would've hurt pretty bad. #WonderBrasSaveLives #MilesBeneathTheSurface
– The Shorty Awards took place on Monday night, which recognize excellence in social media. WWE was nominated in six categories but surprisingly did not win any awards.
TNA
– TNA Knockouts Champion Velvet Sky provided an update on Tuesday regarding her recent knee injury. She tweeted:
"Dr.'s diagnosis: my kneecap popped out & popped back in. Significant swelling & fluid in the joint. MRI shows no tears or serious damage."

"Thanks to all my #PigeonArmy peeps for ur well wishes. I'm a toughie and am healing well. Love u guys."
Sky noted last week that she does not expect to miss ring time. The injury took place at the March 28 Impact Wrestling taping from Jonesboro, Arkansas, which aired last Thursday night. Sky was teaming with Taryn Terrell against Gail Kim and Tara. Sky grabbed her left knee during the match and was checked out by doctors after the match.
http://www.youtube.com/watch?feature=player_embedded&v=Kx6rv2YA-4E