WWE
– Updating a previous item, WWE is currently looking for Triple H's next match to take place at WrestleMania 29. While things could change between now and next April, the current plan is for Triple H to get his rematch against Brock Lesnar at the show.
– Upon landing in Australia today for WWE's three-event tour of the country, WWE Champion CM Punk posted numerous messages on Twitter disputing an online report attributed to F4WOnline.com claiming that he purposely bladed his forehead during his Steel Cage Match against Jerry Lawler on Raw. According to the report, Punk appeared to blade his forehead before returning to the cage a second time and then appeared to hand the used object to official Charles Robinson. Punk tweeted this picture of the staples that were put in his head after RAW and joked that he paid referee Charles Robinson's fine for his involvement in the blade job: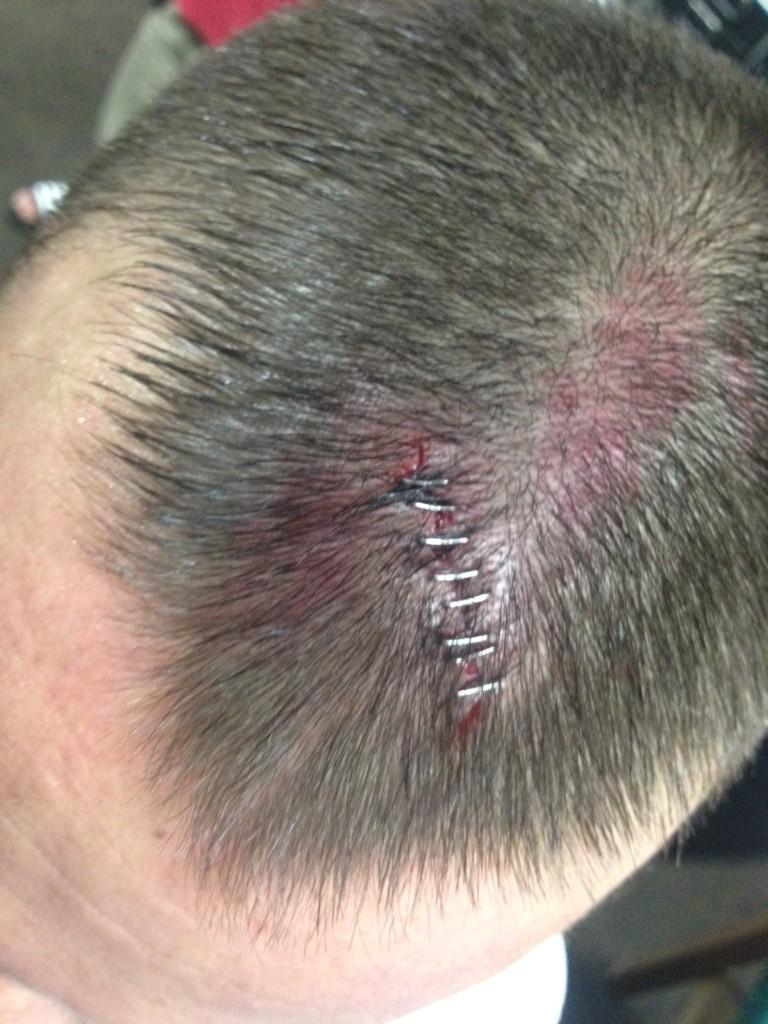 Here's a video of the injury:
http://www.youtube.com/watch?feature=player_embedded&v=GLxGLsXmRQo
– As reported Wednesday, SmackDown ring announcer Lilian Garcia suggested on Twitter that Michelle McCool and The Undertaker had a baby this week, tweeting, "Congrats @McCoolMichelleL & Taker! Soooooo happy 2 hear about ur new bundle of joy!!! #BestWishes!" The Undertaker's eldest son, Gunner, stated Tuesday afternoon on Twitter that the baby is a girl and her name is Kaia Faith Calaway. The new child is Undertaker's fourth and McCool's first.
– WWE Champion CM Punk was interviewed by Machinima Sports and discussed WWE '13, being on the cover of the video game, facing Steve Austin, The Rock, wanting to face Cactus Jack and more. Here are some highlights of what Punk said about:
Who from the Attitude Era influenced his character: "Nobody, I've been CM Punk since I was 15 years old… I was nicknamed Punk when I was a little kid, 'cause I was a little punk into the Ramones, listening to the Clash, listening to punk rock music. I was the first guy to punch someone in the face and not ask questions. So that's who CM Punk is and that's where it came from… But a guy who I really liked and admired from the Attitude Era was 'Stone Cold' Steve Austin."

If he will wrestle Austin: "It's not up to me. I'll fight Muhammad Ali, I'll fight Rin Tin Tin, I'll fight anybody. Steve Austin knows that. He's got a bum wheel, he said? We'll see about next year, see what's hurt or injured or what else the excuse will be come next year. I'm not a hard guy to find, I'm the WWE Champion."

Facing The Rock at the Royal Rumble: "I've got a date with the Rock come Royal Rumble 'cause apparently somebody on the Board of Directors in their infinite wisdom just likes to grant title matches… Make no mistake about it, WWE's no joke, any Sunday I could lose this title, I could lose this title tomorrow. I don't plan on it, but I'm saying that the possibility lies within. I have to hold on to this… I have to hold on to this until The Royal Rumble so I can shut Rock up myself, because that's what I've wanted to do for years and I'm gonna get my chance… Rock, you know what's comin' for you. There's a reason why he's been silent, and it's not because he's busy shooting a movie, he knows this time he's finally bitten off more than he can chew."
– According to F4WOnline, there is some talk in WWE that late comedian Andy Kaufman could be inducted into the WWE Hall of Fame next year. Aftr his attack on Jerry Lawler at the end of last week's RAW, CM Punk tweeted that his attack was for Andy Kaufman. On RAW, Kaufman was mentioned during Punk and Lawler's in-ring promo. If Kaufman is part of next year's class, that would eliminate any chance of Randy Savage being inducted next year, since WWE is sensitive about inducting more than one deceased person per year.
– According to TMZ, WWE Diva Cameron, one of Brodus Clay's Funkadactyl dancers, allegedly tried bribing a police officer with $10,000 after she was arrested for DUI last week in Tampa Bay, Florida. The police report says Cameron had a blood alcohol content of .20, more than twice the legal limit in Florida. Cameron allegedly offered one of the officers $10K to "let her go because she would lose her job." Police say that Cameron had a male passenger in the car, who told them the two of them had been drinking martinis before driving home. A representative for WWE issued a statement saying:
"Ariane [Cameron] did not alert us to this matter, we are investigating and will take appropriate action."
– SmackDown Superstar Heath Slater is the proud parent of a baby girl. TNA Wrestling talent Jesse Sorensen ?stated Wednesday on Twitter,
"Congratulations to @HeathSlaterOMRB @meanstephiejean on the birth of their beautiful baby girl! #GonnaBeGreatParents."
– DreadCentral.com has an article up looking at the WWE Studios horror movie, No One Lives, featuring Brodus Clay. The sysnopsis reads:
"A ruthless criminal gang takes a young couple hostage and goes to ground in an abandoned house in the middle of nowhere. When the captive girl is killed, the tables are unexpectedly turned. The gang finds itself outsmarted by an urbane and seasoned killer determined to ensure that no one lives."
– Here's the latest WWE Inbox video:
– One of the wrestlers that received a tryout with WWE last week was NWA Hollywood wrestler Nick Madrid, who was trained by Lance Storm. WWE has already signed six other students from Storm's wrestling school to developmental contracts.
UFC
– Georges St-Pierre (knee surgery) says he has been medically cleared to return to the Octagon. The Montreal native had reconstructive knee surgery in January after tearing an anterior cruciate ligament and his internal meniscus during a wrestling training session last fall. He tweeted, "I'm now medically cleared to compete in professional mixed martial arts events. Rendez-vous le 17 novembre, (at)UFC 154, Montreal!!!" There has been speculation he will make his comeback at UFC 154 on November 17 in Montreal against interim champion Carlos Condit.
– UFC ring girl Arianny Celeste recently posed for Maxim Korea. Check it out:
NFL
– The maker of Eagles' QB Michael Vick's new flak jacket is willing to guarantee that Vick will not get injured this season. Rob Vito, CEO of Unequal Technologies, said, "I guarantee he will not get hurt. What Michael is wearing was born on the battlefield and forged on the gridiron." Vito says the vest is made up of military-grade, battle-tested composite material along with DuPont Kevlar–it's called the "EXO Skeleton" with a compression shirt and two rib protectors on both sides. Each rib protector weighs just three ounces, allowing Vick to still "feel light" in the high-tech gear.
– Cowboys' TE Jason Witten (lacerated spleen) is considered a game-time call for Week 1. Witten underwent another round of testing on Tuesday, and remains 'questionable.' Witten hasn't missed a single game since 2003.
– Seahawks' coach Pete Carroll told reporters Wednesday that RB Marshawn Lynch (back) will be "fine" despite his recent back flareup. "He took a really good turn this week, rehab has been effective. We think he is going to be fine." Lynch experienced back spasms last season and was fine a week later.
MLB
– Mets' manager Terry Collins said Wednesday that RHP Matt Harvey will be shut down before the end of the season. ESPN New York's Adam Rubin suggests that the limit will be roughly 175 innings. Harvey has thrown 146 innings between Triple-A Buffalo and New York. He has a 2.75 ERA and a 10.8 K/9 through the first six starts of his major league career.
– The Phillies have placed RHP Vance Worley (right elbow) on the 15-day DL. He has officially been shut down for the season, and will undergo surgery to remove loose bodies from the elbow within the next 7-10 days. He should be fine for spring training.
– Marlins' OF Emilio Bonifacio (right knee) has had little improvement since being placed on the DL, and manager Ozzie Guillen would prefer shutting him down for the season. Guillen added that surgery could be an option. "If you need to go in, clean it up, do it right now, and I'll see you in spring training." Bonifacio has been limited to just 64 games this season due to thumb and knee problems.
– Reds' GM Walt Jocketty said Wednesday that prospect SS Billy Hamilton will "probably" not be called up in September. Jocketty previously indicated that the club was having serious discussions about using Hamilton, 21, as a pinch-runner. Jocketty is scheduled to watch Double-A Pensacola over the weekend and hasn't made a final decision yet. The current plan calls for Hamilton to play in the Arizona Fall League.
– Check out this insane play by Giants' 3B Pablo Sandoval and SS Brandon Crawford:
– Brian Ludwig, 41, was killed outside of Swig's Pub in Calgary after getting into a argument with Brian Hooser, 27. The two men were arguing about the Blue Jays pitching staff. The argument started in the bar and moved out into the parking lot where Ludwig was allegedly knocked out by a sucker punch. He later died in hospital.Manager John Farrell said,
"I think we always speak of passion towards an individual team or towards a sport in a good way. That passion is going to drive different mindsets, different viewpoints. You would like to think there comes a point where the line is drawn, where fans don't go over that, but unfortunately in this case it obviously did."

"Sometimes we can turn (a blind eye) towards the negativity that passion generates. But sometimes — and this isn't relating to the final outcome of that incident — but when passion exists you're glad that it does because if there was no negative comments about what you're doing, it might indicate that people don't care. It's unfortunate what's taken place," Farrell said.
OLYMPICS
– Check out Team USA goalie Hope Solo posing naked on the street for an ESPN "Body Issue":
NBA
– Blazers' G Wesley Matthews (ankle) said that he's 100% healthy. Matthews has reportedly been working "really hard" in the offseason and has lost some weight. Matthews regressed last season, averaging 13.7 points, 3.4 rebounds, 1.5 steals and 2.0 treys on 41.2% shooting.
NHL
– The Sentors have signed F Kyle Turris to a 5-year/$17.5M contract extension. The 23-year-old set new career highs in goals (12), assists (17), points (29) in 49 games with Ottawa last season after he was acquired from Phoenix. He'll remain as the team's second line centre.
– Canadiens' F Rene Bourque (abdominal) has undergone surgery and will be sidelined for 8-12 weeks. The surgery was performed early on Wednesday after he suffered an abdominal wall tear during his off-season training. Bourque posted 18 goals, 24 points and 68 penalty minutes in 76 games between the Flames and Habs last season.
– Oilers' RFA F Linus Omark has signed a 1-year contract with EV Zug of Switzerland's National League A. Last season, the 25-year-old played in 14 games with the Oilers, finishing the year with three goals.
TNA
– According to the Wrestling Observer, Devon, whose contract with TNA Wrestling is reportedly set to expire this week, suggested on Twitter Wednesday evening that he's parting ways with the organization effective immediately. The TNA Television Champion wrote,
"I would like to thank the tna fans for making the last seven years fun . im sure we will see each other again down the road real soon.

"im ready to see where god bring me to next. i cant wait . i see big thing on the way

"o and HELL NO IM NOT RETIRING."
It would appear that his departure is due to both parties being unable to reach an agreement on a new contract. He re-tweeted a message stating,
"I'll say this you boys deserve what ever you're asking for plus 25%."
Bully Ray, whose contract will also expire this week, suggested on Twitter that he will part ways with the organization in October at Bound For Glory, which takes place in Phoenix, Arizona.
"Dont mattah where ya start..mattahs where ya finish. See ya in Phoenix!! STRONGEST THE LONGEST. #BULLYNATION"
– During an interview with Steven Muehlhausen of The Fight Club Chicago, mixed martial artist and recent TNA Wrestling signee "King Mo" Lawal revealed that he will be making his debut for the promotion this fall. "I'm going to pro wrestling school starting next month. I will be making my TNA debut this October."
– Former TNA Knockout Lacey Von Erich announced on Twitter Wednesday that she is in labor. She wrote, "Dilated 4cm! Walking around to get the baby out! Looks like John Grant Blindbury the third "Trip" will be born today! ."