The thing that makes the NHL playoffs better than any other sports' playoffs is its unpredictability. Often times, it's not necessarily the 'best team' that comes out on top. Sure, it's a best-of-7 rather than a one-and-done, but a #1 team could easily be bumped by a #8 team if they run into a goalie standing on his head, a sniper with seeing-eye shots or an offensive that can't get anything going.
That said, the chances of winning as an underdog remain very low–only one bottom-four seed has won the Stanley Cup since the NHL started seeding one through eight in each conference in 1993-94, and that was the 1995 Devils seeded at #5. If you go even further down the ladder, the odds grow increasingly in favour of the higher-seeded team. In the six seasons since the salary cap was introduced in 2005-06 campaign, only three No. 8 seeds (25%) have advanced past the first round, while only two No. 7 seeds (16%) have done the same. In the middle of each conference, seven No. 5 seeds (55%) have won in the first round, while six No. 6 seeds (50%) have.
In these playoffs, though, that could be thrown out the door–in both the East and West, the No. 3 seeds had fewer points than the No. 6 seeds.
The line between favourite and underdog has never been more blurry. Having so much parity in the playoffs means one great thing for hockey–just get in, and you can win. Once the new season begins, everything is up for grabs.
Eastern Conference
( 1 ) New York Rangers vs. ( 8 ) Ottawa Senators
The Rangers come in atop the East, while the underdog Sens, who finished 26th in the NHL last season, fought their way into the playoffs with absolutely no one expecting them to do so. New York enters with consecutive losses, while Ottawa has dropped three straight and six of their last 10. The Sens won three of four against the Blue Shirts this season, and earned at least one point in each game against them. G Henrik Lundqvist will need to bounce back against the Sens–he's been lights-out all season (career-high 39 wins, .930 SV% and 1.93 GAA), but has coughed up nine goals in three games against Ottawa. Opposing him will be G Craig Anderson (33-22-6, .914 SV%, 2.83 GAA). Both teams also have tremendous top scoring lines, but struggle to score goals beyond that.
The Rangers' struggling powerplay will need to get working again. Of late, their PP has been better, with eight goals over their last six games, but they still rank 23rd in the league at 15.7%, and is widely considered to be the team's biggest flaw this season. F Brad Richards has seven of his 25 goals this season with the man-advantage, and will need to come out shooting often. Struggling for the Sens if F Milan Michalek, with just three goals in his last 14 games. Given his role on the top line, and the Sens' inability to get depth scoring, he'll clearly need to get going. Ultimately, I think the Rangers advance, but it won't be the romp that everyone thinks it'll be.
Pick: Rangers in 6
( 2 ) Boston Bruins vs. ( 7 ) Washington Capitals
Washington won four of five to close out the season and sneak into the No. 7 spot, while Boston started hot, got an unexpected distraction with G Tim Thomas and the White House before getting their act back in gear. Possibly the biggest mismatch will be in net during this series. Thomas closed out the season 6-1-1 and appears to be the Thomas that led them to the Stanley Cup last season. Opposite him is a messy goaltending situation that's likely to see Braden Holtby get the call. Holtby has done well as a third-stringer in Washington but has zero playoffs experience–as you know, it's an entirely different game in the playoffs, and a battle-tested Bruins team should be no match for them offensively. The 22-year-old will need to hold his own at the very least in order to give his team a fighting chance.
And on paper, that'll be Washington's problem. Boston gets consistent offence from all four lines, which makes them nearly impossible to stop–they have six 20-goal scorers, which is the most in the league. They've scored six or more goals 13 times this season, and lead the league in 5-on-5 goals. And when they get ahead, they don't give it up–they're a perfect 32-0 when leading after 40 minutes, and are a plus-42 in goal differential in the third period (6th in NHL). Given the Caps' inability to score consistently, the B's offence gets the major advantage. F Nicklas Backstrom's (concussion) return will surely help things when he and F Alex Ovechkin get back on the same page, but will his contributions be enough to match the Bruins? Unlikely. Even if Backstrom and Ovie start meshing, D Zdeno Chara is one of the best in the league and will shut them down. While F Alex Semin has 10 points in his last nine, and Ovie has 11 assists in his last 10, the offence simply isn't there for Washington this season.
Make no mistake about it: this is the same Bruins team that ran teams into the ground during last year's playoffs. Meanwhile, the Caps' inability to produce under postseason pressure will continue to haunt them. This team is not built for success beyond the first 82 games.
Pick: Bruins in 5
( 3 ) Florida Panthers vs. ( 6 ) New Jersey Devils
These two teams come in on opposite ends of the spectrum–Florida makes the playoffs for the first time since the turn of the century and enter having won just two of their last 10, while the Devils have won six in a row. Jersey comes in with an extra bit of fire, having missed the playoffs last season for the first time in the past 14 seasons. New Devils' head coach Peter DeBoer, who spent three years behind the Panthers' bench before signing with New Jersey last offseason, has guided his team to a 21-9-3 since the beginning of February. Both teams have improved significantly since last season, but to be totally honest, this could be the most unattractive series to watch in the entire opening round. Florida has seen a complete overhaul from last season, with many of their players coming via free agency. F Kris Versteeg and F Tomas Fleischmann have led that way while D Brian Campbell (tied for second among all defenseman with 53 points and second among defenseman with 49 assists) and D Jason Garrison (16 goals, third among defenceman) have shored up the blueline very well, but Florida still ranks 27th in goals. As for Jersey, F Ilya Kovalchuk put up 37, while F David Clarkson added 30 from the third line. Rookie F Adam Henrique added 51 points as well.
At face value, it looks like we'll get a series filled with one-goal games. Florida was 17-5-18 in one-goal games this season, and led the league in OT and shootout losses, while the Devils ranked fourth in one-goal wins with a 24-7-6 record. It's New Jersey, though, that could stay ahead once they're up–they're 32-9-3 when scoring first, and are 43-7-5 when leading or tied after two periods. They also have the league's best penalty killing unit, allowing a league-low 27 PPGs.
Despite New Jersey having a first-ballot Hall of Famer between the pipes, their advantage in goal is marginal at best. Neither Martin Brodeur nor the Devils have been beyond the second round of the playoffs since 2003, and Brodeur's record since the team's 2003 Cup win is 16-26. This series could go either way, but I give the nod to the Devils' offence.
Pick: Devils in 6
( 4 ) Pittsburgh Penguins vs. ( 5 ) Philadelphia Flyers
Oh baby. The third playoff meeting between these two teams since 2008 has never been more hyped, after Flyers' head coach Peter Laviolette was fined $20,000 for his comments made towards Penguins' captain Sidney Crosby. The league's two top-scoring teams have a nice personal fire added to the series that should make things even more interesting.
After such a long wait, we finally get to see two of the league's best players back together. Crosby is back after concussion-like symptoms, while F Evgeni Malkin missed last year's playoffs and bounced back to finish second in this year's scoring race. The biggest factor in the series, though, might be G Ilya Bryzgalov, whose mental toughness will be put to the test after signing a humongous big contract this offseason. Bryz was on a role before suffering a foot injury, but appears to be good to go. Speaking of health, the Pens are essentially at the top of their game, while the Flyers are without D Chris Pronger, F James van Riemsdyk, D Andrej Meszaros and F Danny Briere, who might be their team's most consistent playoff performer.
Goals shouldn't be hard to come by either. The Pens and Flyers have four and five 20-goal scorers, respectively, while they rank 5th and 4th, respectively, on the powerplay. But the Pens' Cup hopes lie solely on Crosby, who has 37 points in 22 games this season. There's absolutely no question that if healthy, he's the best player in the game. The key here is if he can stay healthy. If not, the Pens are good, but not unbeatable.
Pick: Penguins in 6
Western Conference
( 1 ) Vancouver Canucks vs. ( 8 ) Los Angeles Kings
The new-look Canucks added pieces at the trade deadline that could push them over the top, while the Kings will look to ride a late surge into the second round. The biggest news here is the health of F Daniel Sedin (concussion), who missed the last nine games after getting elbowed by Blackhawks' D Duncan Keith. Right now, he's rumoured to be skating on his own, but his status for Game 1 remains unknown. If the injury is long-term, can the Canucks win without one-half of their dynamic duo? On the flip side, F Jeff Carter (foot) was in a walking boot in late-March and remains unknown for Game 1 as well. On a team that needed a scorer such as himself to provide more than just one line of offensive punch, needless to say, his presence is essential.
In net, this should be an excellent showdown. The Kings and Canucks ranked second and fourth respectively in team GAA, but the big issue here is the battle between Roberto Luongo and Cory Schneider. Following last season's massive hiccup in the Cup finals, you can bet Luongo will be on a short leash again this year. But goaltending aside, Vancouver improved tremendously with the additions of F Zack Kassian, F David Booth, D Marc-Andre Gragnani and F Sami Pahlsson at the trade deadline. Kassian is hoping to be the physical element the 'Nucks lacked against the Bruins last season, while the other three are solid depth additions, not to mention F Dale Weise. Overall, this team is considerably deeper than last season's, and probably gives them the best shot at a Stanley Cup that the franchise has had in a number of years.
Vancouver's offence will be too much to handle, although the President's Trophy winners will get a good run for their money.
Pick: Canucks in 7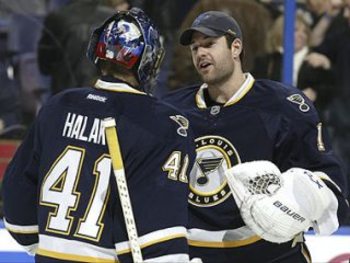 ( 2 ) St. Louis Blues vs. ( 7 ) San Jose Sharks
The Blues wiped the floor with the Sharks this season, sweeping the series 4-0 and outscoring them 11-3. That said, playoff experience is huge, and although the Sharks have a 'choker' playoff image, they've made the West finals two consecutive seasons. St. Louis is a new team under head coach Ken Hitchcock, leading the league in GAA and boasting the NHL's second best home record at 30-6-5.
This is a great matchup between an elite defence and an elite offence. Something's gotta give. Special teams will be fun to watch: the Blues are seventh on the PK, while the Sharks are second on the PP. The Blues, however, limited the Sharks to just 1/15 PP chances during their four regular-season games. While there might be a slight goaltending 'controversy' in St. Louis, both Brian Elliott and Jaroslav Halak have been lights out, and provide Hitchcock with the rare ability to sub one for the other without a drop in performance.
The Sharks have the playoff experience and expectations advantage in this one, but all logic points to the Blues. If this becomes a shootout, St. Louis won't be able to match the firepower, but I think their defence is what will get them through to the next round.
Pick: Blues in 6
( 3 ) Phoenix Coyotes vs. ( 6 ) Chicago Blackhawks
The Coyotes won three of four regular-season games against the Blackhawks and enter having won five in a row. Captain Jonathan Toews (concussion) hasn't played since February 19, and his absence is a colossal hole to fill. Meanwhile, no one has been quite as electric as G Mike Smith, who has allowed only two goals in his past five games, making 190 of 192 saves. Absolutely incredible.
There's no doubt the Hawks are the deeper team, but they're not rolling at 100%, as their special teams rank near dead last. The Yotes have two first-round exits in the past two seasons, and I don't see enough change to warrant a series win. That said, this is exactly what I mean when I say teams can run into game-changing goalies on hot streaks. Even if the Hawks severely outplay the Coyotes, Smith could simply be the difference because he could be a brick wall. It's possible Smith steals them the series, but I'm giving the edge to the Hawks unless I see it happen.
Pick: Blackhawks in 7
( 4 ) Nashville Predators vs. ( 5 ) Detroit Red Wings
Detroit enters injury-riddled as usual, while the new-look Preds have F Andrei Kostitsyn, D Hal Gill, F Paul Gaustad and F Alex Radulov as new additions from a year ago. Between the pipes is an exciting battle between G Pekka Rinne, the league's win leader, and G Jimmy Howard, who was the wins leader before going down with a groin injury. Nashville's top powerplay will also be a thing to watch for, as Detroit's PK has been pedestrian at best this season.
On a side storyline, D Ryan Suter is a potentially impending UFA, and his future in Nashville could be directly related to the result of this series. Ironically, with lots of money in Detroit's pocketbook this summer, Suter could become a target for Hockeytown if he does reach the market.
This series will come down to home versus road. The Wings went 31-7-3 at Joe Louis Arena this season, but 17-21-3 on the road. Nashville has the best shutdown defence pair in hockey, added depth up front, as well as the special teams and goaltending advantage. Detroit hasn't lost in the first round since 2006, and they'll need to get healthy and win on the road if they want to flip the Preds.
Pick: Red Wings in 7
Prediction History:
NHL
2007-08: 12-3 (80%)
2008-09: 10-5 (67%)
2009-10: 9-6 (60%)
2010-11: 8-7 (53%)
2011-12: 0-0
Total: 39/60 = 65%
NBA
2007-08: 11-4 (73%)
2008-09: 9-6 (60%)
2009-10: 11-4 (73%)
2010-11: 11-4 (73%)
Total: 42/60 = 70%
MLB
2008: 5-2 (71%)
2009: 4-3 (57%)
2010: 3-4 (43%)
2011: 4-3 (57%)
Total: 16/28 = 57%
NFL
2008-09: 9-2 (82%)
2009-10: 7-4 (64%)
2010-11: 8-3 (73%)
2011-12: 8-3 (73%)
Total: 32/44 = 73%