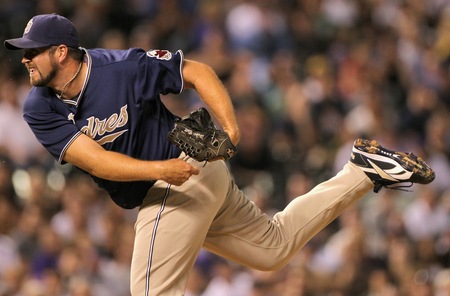 MLB
– Padres' RHP Heath Bell is seeking a 3-year extension from the team this winter. Bell earned $4M this past year and is likely to reach $7M via salary arbitration this offseason. The Padres don't have a massive budget and will probably want to avoid paying $20M+ over the next three seasons to a reliever. He is one of baseball's best closers.
– Buster Olney of ESPN.com reports that Sandy Alderson wants to be the Mets' next GM. According to Olney, friends say Alderson wants to get back into the work of running a ballclub. The longtime executive also has a close relationship with Mets' owner Fred Wilpon, which will go a long way in determining if he gets the gig. Alderson is expected to interview for the position on Thursday.
– According to Tyler Kepner of the NY Times, the Brewers are "looking into" Bobby Valentine as a possible candidate for their managerial opening. Valentine is being courted by the Mariners and probably by the Mets as well, but the Brewers look the most playoff-ready.
Meanwhile, a source tells Ken Rosenthal of FOXSports.com that the Mariners do not necessarily consider Bobby Valentine the front-runner for their managerial vacancy. While Valentine had a strong interview, the Mariners were also impressed by their other candidates, including Cecil Cooper, Eric Wedge, John Gibbons, Lloyd McClendon and Daren Brown. They also wouldn't command a high salary or want a say in personnel decisions.
– Reds' GM Walt Jocketty hinted Wednesday that the club is unlikely to exercise SS Orlando Cabrera's $4M mutual option for 2011. "It's probably more than we want to exercise, we'll try to find a happy medium. If not Janish would be our (shortstop)." Cabrera made around $3M this past season, but only sported a .263/.303/.354 batting line. He may have to sign back for less.
– Ken Rosenthal of FOXSports.com reports that the Dodgers denied the Blue Jays permission to interview Tim Wallach for their managerial opening. Sources tell Rosenthal that Wallach's contract with the Dodgers only allows him to interview with certain clubs, and the Jays aren't one of them. He was recently permitted to interview with the Brewers, though. Should Wallach fail to find a managerial job, he will be a coach on Don Mattingly's staff next season.
NHL
– Devils' F Brian Rolston (sports hernia) will undergo surgery to repair a sports hernia and will miss for 4-6 weeks. He is scheduled to have the procedure this morning and the Devils will place him on their long-term IR. When that happens, New Jersey will be able to exceed the salary cap by the amount of his cap hit ($5,062,500) and they can finally bring up some players from the minors to fill out their already-shorthanded roster.
WWE
– Among those discussed this past week for induction into the 2011 WWE Hall of Fame were Bill Goldberg, Lex Luger and Ron Simmons. Also under consideration for induction into the Hall is that of the Four Horsemen. Company officials would prefer to induct the group as opposed to solely Arn Anderson. However, the group's induction will likely hinge on whether Ric Flair re-signs with TNA Wrestling once his current contract expires early next year. WWE also has strong interest in inducting Sting into the Hall of Fame, though his availability hinges on whether he re-signs with TNA Wrestling for 2011.
– In an update on the condition of Patrick Henry, older brother of WWE Superstar, Mark Henry, doctors have taken him off the medication that was keeping him in a coma and he is expected to be revived today. Henry had several surgeries to stop the bleeding and pressure on his brain caused by the stroke he suffered on Oct. 3.
– Former WWE Diva Maria Kanellis commented on her current status in the professional wrestling industry yesterday on Twitter. "No," she said in response to a fan's query regarding a possible return. "I had an amazing time with all the great superstars and divas, but music and acting is my life now. Maybe an appearance, but never fulltime. I still love wrestling though!! Love the fans."
– FCW has added two male wrestlers and two female wrestlers to its roster page — Kenny Li, Ron Myers, Sonia and Verity Thomas. Sonia, who's real name is Su Yung, has wrestled for various independent wrestling promotions in the United States including Memphis Ladies Wrestling, LadySports and Glory. She signed a developmental contract with WWE in May and debuted last month in FCW under the name Vannah.
Thomas is British-based women's wrestler Vickie Skeeles. The 23-year-old was signed to a developmental contract in August and had recently debuted in FCW. Li is 27-year-old Texas-based independent wrestler Li Fang, who the company recently signed to a developmental contract. He bills himself on his MySpace page as "the first ever Chinese wrestler." He has been wrestling professionally since 2006 and has appeared for numerous Texas-based independent promotions including Professional Championship Wrestling (PCW).
Myers formerly competed as Kris Logan in FCW prior to being released last year. He was recently re-signed to a developmental contract. Meanwhile, WWE has released Rudy Parker (aka Asher Knight) from his developmental contract. He was signed from Ohio Valley Wrestling in January.
NBA
– Sixers' F Spencer Hawes (back) may have a bulging or herniated disc in his back. Disk problems are almost always red flags. Coach Doug Collins hinted that Hawes may need to rest for three weeks, which would shelf him for the opener.
TNA
– In an interview with Busted Open, Booker T spoke about:
Whether He Would return To TNA or WWE: "I'm a free agent… It's about making a phone call. I left on good terms. I'm pretty good friends with Terry Taylor. I left on good terms with Dixie Carter. But I don't want to get back on that WWE schedule… I would be willing to do commentary. I'd be willing to work behind the scenes (with WWE).

Why He Went To TNA: "I went there to make those young guys a lot better, guys like A.J. (Styles), (Robert) Roode, Black Machismo, and the list goes on and on… The Main Event Mafia could still be going today… The wrestling business is all about the young guys coming up and taking those spots."

TNA Rehashing Old Angles: "I feel the past should left in the past. You cannot recreate WCW. TNA was in a great position to move up to the next level."

Rumors of Him Leaving a Live Event and Not Putting Over Matt Morgan: "It was one live event, overseas, and there was not any security. The fans were throwing full cans of beer. I felt unsafe working in that environment… I did not want to put over Matt Morgan that night because I had never had a segment with Matt Morgan."
– TNA Wrestling's decision to turn Jeff Hardy heel was made approximately seven weeks ago. The creative department felt that it was adamant that the group Abyss had been referring to as "they" for the past several months include the TNA World Heavyweight Champion and it was determined that Hardy and Rob Van Dam were the prime options.
– TNA Wrestling has signed former WWE talent Katie Lea Burchill to a contract, reports PWI. The former WWE Diva took part in a tryout match for the company in August, wrestling Madison Rayne. She was released from WWE in April following a four year run with the organization.
– Jersey Shore star Jenni "J-Woww" Farley spoke to RadarOnline.com this week about her appearance on tonight's episode of TNA iMPACT!
J-Woww tells RadarOnline that tonight's appearance may not be a one-time deal:
"Never in a million years would I ever think I would be at TNA so it's a once in a lifetime opportunity and I'm glad I did it. You know, I never thought I could be able to do it; it's pretty intense, but after getting in the ring and, you know, going in there, the adrenaline rush I could definitely see myself doing something like this in the future."
A TNA representative commented on working with J-Woww:
"We would definitely love to have her back. She's a black belt, she's very athletic and she was very good at this. TNA has worked with countless celebrities and lots of ex-professional athletes…and she got it! She was a very quick learner. She was as physical and ring-smart as you could be given the fact that she'd never done it before and she knows the entertainment side of it."
VoV
Marc Valeri – captaincharisma@hotmail.com
VoV – www.voiceofvaleri.com
Add me on Facebook at Facebook.com/VoiceofValeri
Add me on Twitter at Twitter.com/VoiceofValeri
Add me on Skype @ MValeri88.
Find me on The Bleacher Report.
Join the VoV Forums
Ask me anything on FormSpring
Add me on LinkedIn
Get VoV RSS feeds
Become a Fan of VoV on Facebook
Join the VoV Facebook Group