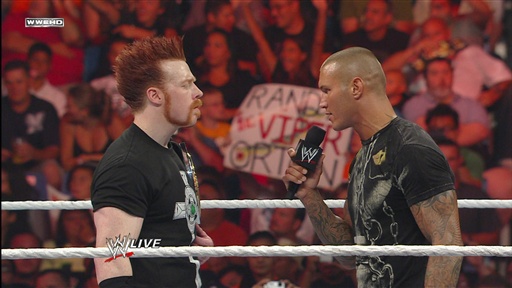 RAW
Raw comes to you live from Washington D.C.. It's the unprecedented 901st episode…right? If 900 was groundbreaking, shouldn't they be making a big deal of every show thereafter? No? Didn't think so.
Opener
We cut to Nexus standing in the ring. They're still high over their 5-on-5 win last week and start talking about how Jericho and Edge walked away out of fear, and how Slater pinned Sheamus to end the match. Gabriel starts bragging about how he 450′d Cena and Undertaker and how he's the only person to have ever done his finisher to both guys in the same night. Barrett says he "devenomized" Orton. Ugh. Speaking of who, Orton interrupts and explains how he took out 2 Nexus members in less than 30 seconds. Booya! Nexus calls Orton down to the ring, but the GM emails. Cena/Gabriel tonight "for the first time ever." Really? Was anyone really anticipating this match for years and they had to announce that it was for "the first time ever?" Also, Orton/Barrett tonight.
John Morrison d. Chris Jericho (***)
Before the match, the GM emails saying that Edge and Jericho would be punished for walking away in their matches, so if they lose tonight, they're out of the 6-pack Challenge at NoC. Jericho starts screaming at Cole to tell him who the GM is. Very solid match, with JoMo winning via Starship Pain in about 10 minutes. About time that guys like Morrison get more than 2 minutes to have a match. The crowd was hot for him throughout the match, and in the end, it resulted in a solid TV match. More please! Post-match, the crowd cheered him on as he looked upset and took a while to collect his thoughts on the stairs and ramp. The idea here was that Jericho would leave the WWE if he didn't win the title at NoC, but now that he's not in the match, he doesn't know what's going to happen. I think (hope? pray?) he re-signs.
Melina d. Alicia Fox (1/2*)
As Alicia was coming down the ramp, she said that she was going to be the next "undefined" Women's Champion, rather than the next "unified" champion. This is what happens when you let Divas talk. Some can do it, some can't. Melina won in 2 minutes via cookie-cutter Divas match.
Backstage
Josh Matthews w/ The Miz. Miz has something behind a black curtain, but he won't reveal what it is yet.
Backstage
Edge w/ Zack Ryder. This was a laugher. Edge says, "You're an easy win because you suck!" Ha! "You know, I used to think you were a total tool!" Ryder is trying to get a match with Edge so he can be put in the NoC match, and Edge accepts it. Edge then starts speaking into the air, directed at the GM, that he wants Ryder to be his opponent for the evening. So, are the Hawkins/Ryder Edge-lookalike things ancient history, or…?
Backstage
DiBiase's on the phone telling somebody he loved them, then Maryse walked in and he said it was his mom. Liar! Maryse said "me too" to DiBiase, who was lost. She shows him a note that says "I want you so bad" in all caps, and says it wasn't from him, but rather, it was probably for him. They get into an argument to end the segment. Is that all it takes to get Maryse, just money and a note? I wish I had both.
John Cena d. Justin Gabriel (*3/4)
Average match. Cena wins via AA of the top rope in 5 minutes. His foot slipped on the middle rope, so it looked kinda botched. Gabriel looked very good in the match, though.
In-Ring
The Miz promo with his hidden item. "My name is Mike Mizanin, and I have no right to be here." He told his story – starting 6 years ago on reality TV, going on Tough Enough, hosting SmackDown, tagging with Morrison, winning the US title and winning MITB. He reveals the hidden item, and it's him on the cover of WWE Magazine. He says he's the poster child of WWE and all the fans need to admit that they were wrong about him. Cole was going bananas. DB comes out and says, "Hi Mike Mizanin, my name is Daniel Bryan." Well, not really. Miz says he hasn't made it yet and he's still a nobody. Bryan says he's the anti-superstar because of his look, how he comes out to generic rock music, etc.. He says he paid $10 for his haircut – hey, so do I, but I shouldn't have to pay more for it to get buzzed all over. DB says he could beat him if he got a US title shot, so Miz says, "I agree…that you paid $10 for the haircut." Nice. Miz said he was mad that Bryan replaced him at SmackDown, but he meant to say SummerSlam. No one noticed. DB shows a new WWE Magazine cover on the titantron, with Miz tapping out to the LeBell Lock. He says he can beat Miz again, who eventually agrees. Miz goes for a mic shot, but DB counters and goes for the LeBell Lock, but Alex Riley breaks it up. Bryan tosses Miz from the ring, then puts the LeBell Lock on Riley while Miz watches from the outside. Miz' briefcase opened up when he was tossed, and there was no contract in there! It's a farce! Anyways, great segment aside from Miz' botch, but it looks like they have a match at NoC. Given enough time, they'll have match of the night.
Next week via GM email to Cole's Blackberry (seriously), Cena faces the winner of Orton vs. Barrett tonight.
Edge d. The Great Khali via countout (DUD)
Before the match, Edge is fighting himself as to whether or not to smash the laptop. Edge starts mocking Khali as if he were a zombie doing chops. AWESOME! Edge forced Khali outside the ring, kicked him and ran back in before the 10 count. GM emails saying they'll restart a no-DQ, over the top rope match.
Edge d. The Great Khali in an Over The Top Rope Challenge (DUD)
Khali walked over the top to the floor and Cole screamed to call it an elimination. I agree, while Lawler didn't. Edge is thrown out through the middle rope eventually pulls Khali, who's halfway over, onto the mat for the win. Edge stays in the NoC match.
They did a rundown of the Night of Champions card. The Six Pack Challenge is still on with five guys. Whatever that means. I guess it's a Five Pack Challenge. Maybe next week they will add somebody or put Jericho back in there like they did at Summerslam. Who really knows? I'm thinking Sheamus retains the belt, by the way.
Backstage
Mathews w/ Jericho. Josh asks him a question, but Jericho keeps staring blankly. Morrison comes over to console him. "Bad day, huh? You still think you're the best in the world at what you do?" He says things would get better. "Do you understand what I'm saying to you right now?" Jericho looked at him, and then back into space. Hilarious.
Randy Orton d. Wade Barrett (*1/2)
Cena, Sheamus and Edge are doing commentary, which was solid. Edge kept putting over his 29 championships. Impressive. Darren Young interrupts saying that he's not the weak link in Nexus, but the missing link. Barrett turned around and Orton hit a RKO for the pinfall in about 6 minutes. Post-match, Orton is smiling and inviting Young into the ring to move on a prone Barrett, but Orton hits him with an RKO. Orton and Sheamus have a staredown, so Edge goes for a spear on Orton, misses and eats an RKO. Orton turns and ducks a scissor kick from Sheamus, who then eats an RKO. Good job having Young interfere, as it has Barrett lose, but no clean, so he's still protected. The crowd erupted for the RKO-fest at the end. Orton and Cena have a little staredown at the end, as they fight next week (don't expect a clean finish) to combat the first Monday Night Football of the 2010-11 season. Guess I'm doing picture-in-picture.
Three Stars of the Show
* Chris Jericho. Solid match, great sell at the end.
** Edge. Hilarious zombie chops.
*** John Morrison. Looked great, here's to hoping they keep giving him time.
Final Score: 7
Much better show than the past 2 weeks. Let's recap, though – at Summerslam, WWE goes over Nexus. Last week, Gabriel pins Cena and Barrett pins Orton. This week, Cena pins Gabriel and Orton pins Barrett. So the past 3 weeks have essentially meant nothing since we're like going in a big circle or something. Nothing's progressing anywhere, everyone is winning and losing equally. What the hell? JoMo/Jericho was a great match, and the Miz/Bryan segment looks amazing. Can't wait to watch it at NoC, I just hope they get some time, though. Not sure why Raw #902 next week is a season premiere though. Does that make this one a season finale?
VoV
Marc Valeri – captaincharisma@hotmail.com
VoV – www.voiceofvaleri.com
Add me on Facebook at Facebook.com/VoiceofValeri
Add me on Twitter at Twitter.com/VoiceofValeri
Add me on Skype @ MValeri88.
Join the VoV Forums
Ask me anything on FormSpring
Get VoV RSS feeds
Become a Fan of VoV on Facebook
Join the VoV Facebook Group