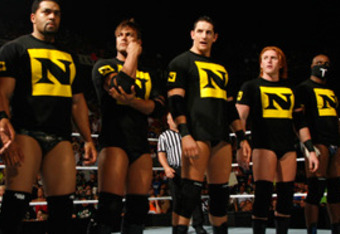 So we've got a special guest for today's recap. Nick Sequeira from The Sick Era Times will be joining me via video review to give his thoughts on Raw's 900th episode. Nick is available through Twitter @SICKERATION as well as on YouTube at YouTube.com/NickSickEra.
Raw
Raw comes to you live from Boston, Massachusetts. A lot of names, past and present, are scheduled for tonight, meaning we're likely to see a rushed show with a lot of short matches. I understand hyping 900, since it's a big number, but it's not like it's #1000. But if 900 is record-breaking and you're going to hype it, why not hype 901 and 902? Other than 900 being an even number, it really shouldn't make a difference. Whatever, I'm reading too much into this.
Video package featuring highlights from 17 years worth of Raw episodes. Nice stroll down memory lane.
Opener
Bret opens the show with a promo saying that The Undertaker is the only active roster member here when Raw debuted in 1993. He's about to call him out when Kane interrupts. Kane says that "there is no Undertaker anymore thanks to me physically decimating him and leaving him to rot in a vegetative state." Kane says that Taker is like Bret – weak and old, past his prime. He says the last time Taker was himself was when he retired HBK. Bret says he'll enjoy it when Taker beats Kane at NoC. Kane says Undertaker took out a legend in HBK so Kane has to take out Bret. THD runs in and makes the save, but Kane prevails. He chokes Bret, and the lights go out with the gong sounding. The lights come back on, and Taker & Kane are face to face. GM sends an email saying it's Bret vs. Taker in honour of episode #900. Wait, didn't the GM say he didn't want Bret to ever wrestle again when they did the Team WWE/Nexus angle a few weeks ago? Wow, they're already ignoring it.
Episode #1 Raw flashback.
Episode #279: Austin rides the zamboni on September 28, 1998 to clothesline Vince McMahon. The peak of pro wrestling.
The Miz & Alex Riley d. Kofi Kingston & Michael McGillicutty and Daniel Bryan & Kaval (*1/2)
Double foot stomp off the top by Kaval on MM, but Miz sneaks up from behind and hits Kaval with the Skull Crushing Finale for the pinfall in 4 minutes. Post-match, Riley provides the distraction while Miz smashes Bryan with the briefcase.
Melina & Eve d. Michelle McCool & Layla (DUD)
Someone explain to me why the announce team is discussing Jersey Shore. Seriously. Why. Melina wins with a rollup on Layla in less than 1 minute. Post-match, LayCool wants to unify the titles, to which Melina accepts as long as they're willing to do a lumberjack match. For those who didn't see it, creative plans as of Monday night was for WWE to unify all of its championships within the next year. There would be one World Championship, one Tag Team Championship, the Intercontinental Championship, and one Women's title. Don't know what's happening with the US title. It is said that a WWE/World Title Unification Match will take place at next year's WrestleMania. I hope they don't unify them and make them look like big pennies like they did for the Tag Team titles.
Episode #889: June 7, 2010 when Nexus dismantled Cena and the ring.
Backstage
Nexus arguing with Young being out and Sheffield having his broken ankle. Barrett says they'll do something to fill the void. I hope HHH comes back as a heel.
Episode #850: September 7, 2009 with Bob Barker as guest host. The Jericho/Barker confrontation was awesome.
Backstage
Jericho promo. He says that if he loses at NoC, he's gone from WWE. Mathews points out that Jericho's been fired from Raw a bunch of times. He says he's going to prove to Nexus and the fans that he's the best in the world at he does. FYI, Jericho's contract is up right after NoC, and as far as I know, he hasn't re-signed yet, though they're negotiating a new deal.
John Morrison & R-Truth are out to work a tag match for the #1 contendership to the tag titles. The announcers talked about how Survivor needs to be on for 40 some years to have as many episodes as Raw. Of course Survivor also has about 4 times as many viewers as Raw. They don't mention that. It's called selective editing. I love Cole ripping on Truth's entrance. It's so random to go after him, but it's hilarious too.
#1 Contender's Match: John Morrison & R-Truth vs. Drew McIntyre & Cody Rhodes (DUD)
And now they're talking about Survivor and how it'll have to be on for 40 years to reach 900 episodes. Survivor also does like a 10.0 cable rating. Anyways, all four guys start brawling 30 seconds in and the match gets thrown out. It'll probably happen on SmackDown.
Episode #867: January 4, 2010. Bret & Shawn hug it out in the ring. Best moment of 2010.
Bret Hart vs. The Undertaker
Barrett comes out right away and says it's about the future (Nexus), and not the past. He goes after Taker but eats a big boot. The lights go out, and Kane shows up. He brawls with Undertaker, but gets choked. The lights go out again, the gong sounds, and Kane disappears. It's William Regal! Nexus comes out and surrounds Taker. He chokes Barrett, but the lights go out and the gong hits again. Barrett lands his finisher, Gabriel hits his 450. Why is Kane able to turn the lights out now? He must've eaten Taker's soul. His soooooul. WWE needs to stop booking Bret for matches when they have no intent of having him work them. Ha, Nexus is Raw-exclusive, Taker won't need to worry about getting jumped anymore.
Jack Swagger vs. Evan Bourne (*)
Now they discuss Friends. Ugh. 30 seconds in, Alberto Del Rio interrupts. Bourne and Swagger are still wrestling. Bourne goes for the SSP, misses, and gets put in an ankle lock. Bourne taps in 2 minutes. So Bourne goes back to jobbing? Soft. And Del Rio served no purpose ringside. Post-match, ADR says fans didn't see SmackDown (who does?) and recreates what happened to Rey by putting Bourne in an armbar and tossing him from the ring. ADR grabs a chair, but Mark Henry makes the save.
Episode #331: September 27, 1999. "Rock This is Your Life." The most watched segment in Raw history. Huge ratings. They went about 25 minutes straight without a commercial. I miss that so much.
In-Ring
CM Punk with the SES. Thank God. "Do you know who I'm better than? The Rock. I don't drink, I don't smoke and I don't make crappy movies like The Tooth Fairy." Ha! Hysterical. Punk asks if people miss The Rock, but he says he doesn't. He says Raw's been promoting poor family values. He says he's got two words for us – the crowd yells "suck it," but he says"Katie Vick." Ugh, don't remind me. He says he's going to show us four of Raw's worst moments: 1) March '09, HHH beats up Orton in his house. Heeeeere's Johnny! 2) August '06, Edge and Cena fighting outside the harbour with Cena throwing Edge in the water. Did it again on SmackDown a few weeks ago. C) April '98, DX invades WCW. Epic, not only for storyline but also in the WWE vs. WCW war. D) March '99, Austin's beerbath with McMahons and The Rock. Vince swimming in the beer. Probably the best moment in pro wrestling history. Punk says we'd love it if Austin came out to soak him in beer. GLASS SHATTERS! STONE COLD!? Nope. Punk is ROFL'ing and says he feels that disappointed when he sees the fans. Nicely done.
Episode #199: June 12, 2003 SmackDown. Lesnar superplex on Big Show, and the ring exploded. So cool.
Big Show comes out and tells a story of the tainted burrito that Eddie Guerrero gave him and it caused him chronic diarrhea. Punk says "That was boring. You're not funny and nobody likes you." "That was mean" replies Show. This is PG dissing. Show says, "I'm not high, I'm just tall." The segment sucked. Show cleaned house of SES to end the segment.
Episode #450: January 7, 2002. HHH comes back to Raw in MSG.
Backstage
Sheamus comes out to do an interview. He says HHH is never coming back. Or he's coming back tonight since they've just done two HHH references in a row. He complains about having to team with four of his opponents in the Six Pack Challenge. Edge says experienced it all on Raw and how he's won 29 championships in WWE, the Rumble, the King of the Ring and the first MITB winner. And he says he's going to win the Six Pack Challenge.
Wade Barrett, Justin Gabriel, David Otunga, Heath Slater & Michael Tarver d. John Cena, Randy Orton, Edge, Sheamus & Chris Jericho (*1/2)
Jericho walks out for the countout loss while smiling. Edge against Tarver, but Edge pushes the ref and gets DQ'd. Gabriel hit a cheap shot on Sheamus and Slater pinned him after landing the Zig Zag. 5 on 2 now. Cena pinned Slater after about 30 seconds. 4 on 2. Cena got worked on for a bit, but gets Otunga to tap in the STF. 3 on 2. Immediately after, Gabriel hits the 450 on Cena and gets the pinfall, so it's 3 on 1. Orton lands a quick RKO on Gabriel and pins, 2 on 1. Tarver runs in and eats an RKO seconds later, 1 on 1. Barrett comes in and hits Wasteland for the pinfall. Match lasted about 12 minutes. Orton got pinned after one move. What a shitty ending. A slow match to start, and a sloppy, disorganized, rushed ending.
Final Score: 2.5
3 Stars of the Show
* CM Punk. Bow before the Beard. He saved this show.
** Austin beerbash flashback
*** Rock/Mankind flashback
#900 really should've been 3 hours long. Dunno why they didn't do it, everything seemed crammed. No one expected a ton of wrestling on the show, but it was ridiculous, there was like 15 minutes of wrestling on a 2 hour show. A night to forget.
VoV
Marc Valeri – captaincharisma@hotmail.com
VoV – www.voiceofvaleri.com
Add me on Facebook at Facebook.com/VoiceofValeri
Add me on Twitter at Twitter.com/VoiceofValeri
Add me on Skype @ MValeri88.
Join the VoV Forums
Ask me anything on FormSpring
Get VoV RSS feeds
Become a Fan of VoV on Facebook
Join the VoV Facebook Group