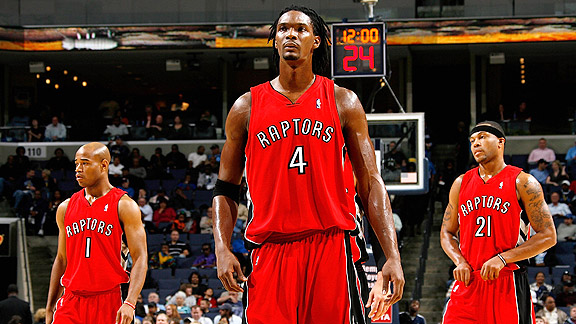 It came as no surprise that Chris Bosh has left Toronto. It seems as though every five years or so, a Raptors' star leaves the city and heads for greener pastures. First, Damon Stoudamire. Then, Tracy McGrady, followed by his cousin, Vince Carter. And now CB4.
Bosh spent seven seasons in Toronto, making just 2 appearances in the playoffs. If winning means as much to him as he says it does, I understand why he left. Flat out, the Raptors were not winning. By signing in Miami, he has the chance to win a championship along with Dwyane Wade and LeBron James. He went from saying he wanted to be the elite scorer to being the #3 guy. Why Bosh left can be considered two-fold: for everything McGrady said at Knicks' camp during the process, for Toronto having a poor reputation for winning and much more. But that's a discussion for another time. Bosh will play Batgirl in a Batman and Robin tandem in Miami and create a Super Best Friends trio, and has the ability to be the Eastern Conference version of the Lakers' Pau Gasol that could be the ingredient they needed to win two championships over the past three seasons.
What I don't understand, however, is Bosh's lack of class in leaving. CB4 asked, through Twitter, where he should go, when all along (Olympics of 2008? As far back as college?) he knew that he was teaming with Wade and LeBron. He spent countless days indulging in his being wooed by other teams, leaving Toronto fans to twist in the wind. Just before midnight on July 1, Bosh tweeted,
"The time is finally here. Thank you for all the support. I'm nervous, but I'm excited and READY! LET THE GAMES BEGIN!!!!!!!"
And in the past week, he has detailed his meetings with several NBA clubs with a great deal of enthusiasm. Then on Wednesday morning, not long after the first reports came out that he had decided on the Heat, his next Tweet stated,
"What's all the fuss about this morning? I woke up to a ton of emails, texts and missed calls. I'll check the news later. Sitting down for my belgian waffles right now."
So, no comment? Which was a flat out lie, since, as it turns out, he was on ESPN alongside D-Wade to announce the Miami deal less than two hours after the post. The Toronto fan base, as well as the Raptors organization, stepped behind Bosh from square one when he was a skinny, lanky kid coming out of Georgia Tech, and in no way, shape or form did Toronto fans deserve this from the city and organization that put his mug on the map. Bosh destroyed 7 years of Toronto goodwill in about 10 days flat.
It hasn't been just Bosh, though – all three have been using Twitter inappropriately. Want to know how to handle free agency? Look at Kevin Durant. The Thunder say they want him back, he says he wants to stay, they negotiate a contract, and just like that, he signs a 5-year/$84M deal. No Tweeting. No teases. No hour-long ESPN programs to deliver the news. And Durant is younger than all of them, supposedly more 'immature.'
It's great that many NBA stars have used Twitter as a social network to offer opinions and speak with fans, but CB4 didn't handle his business the right way.
Magic' coach Stan Van Gundy nailed it on the head when he called CB4 Wade's "lap dog" the way he followed the Miami star around during the courting process and felt that Wade, Bosh and LeBron were more concerned about building their brands rather than focusing on being a player.
"You don't hear Kobe Bryant and certainly not Kevin Durant talking about their brand. They don't. I hear that from the other guys. I don't hear those guys talking about their brand, they're simply basketball players who want to be great players and win games."
Raptors' GM Bryan Colangelo had every right to not do a sign and trade with Miami, which would cost Bosh $30M dollars in salary. It'd be the right thing to do for someone who pulled a stunt like he did. But he didn't, because, after all, any return is better than losing your star player for nothing at all. And in doing so, the Raptors receive two 2011 1st-round draft picks (one of which is Toronto's own that was surrendered in the Jermaine O'Neal/Shawn Marion trade in 2009) and a $15.5M trade exception through next summer. That said, Bosh agreeing on a deal with the Heat first handcuffed the Raps from acquiring any rumoured names including Michael Beasley, Mario Chalmers or Joel Anthony.
But while Raptors take another shot to the gut and another superstar leaves Toronto, it brings us to this summer. Obviously the draft picks won't be much of a consideration until closer to next June, and the Heat's pick will, in all likelihood, be in the 25-30 positions of the first round since they're already possess 9-5 odds of winning the NBA Championship this season.
The trade exception, however, is interesting. A trade exception is basically a dollar amount (in this case, roughly $16M) that the Raptors can use to complete lopsided financial trades, good for up to one full year. For instance, if the Raptors wanted to acquire a player worth $15M, they could absorb that whole salary without sending a single player back to the other team. Not only that, but whatever money they don't spend on that transaction, they keep and can use on another transaction. It can be broken up as many times as they want to break it up until they've spent the whole thing, or it can be used once on one massive contract – however they see fit. They can even combine it with players to complete an even bigger trade, but the salary-matching restrictions in those situations are far more complex than they are with a traditional player-based trade. Usually, a trade can be completed as long as the incoming salaries match the outgoing salaries within 125%  plus $100K of each other. When using a trade exception, however, the salaries must be 100% plus $100K of each other. In the case of the Raptors, who own a massive trade exception, lining up those salaries should not be an issue.
Despite the Raptors being in the midst of a youth movement, Colangelo will look to acquire any player that he feels makes the team better today and tomorrow. B.C. won't sacrifice the future to win now since it won't get the team anywhere, and as it stands, they're nowhere close to Eastern Conference contention. While they have roughly $16M to spend, they likely won't spend all of it. They are within roughly $10M of the luxury tax threshold when one factors in the contract that Linas Kleiza is likely to sign once Denver passes on matching his qualifying offer, meaning that the Raptors are unlikely to go into the tax unless the player pushing them there is an outstanding acquisition. Assuming Kleiza signs, the Raptors are roughly 2-deep at every position heading into the season.
So who are the Raptors targeting with all of that money? They could be using it to boost their ability to move Caderon or Turkoglu, they could want it to acquire several smaller pieces or they could simply be interested in holding on to it into the season to see if a team tires of a player that the Raptors covet. However, if the Raptors are looking to make a splash with these new riches, these are some likely targets. As everyone knows, though, trades in the NBA are often far harder to predict than simply applying logic to a situation. If and when the Raptors start utilizing their assets this summer they will likely be doing so in places that no one even thought to look in.
Outgoing
Colangelo has made it clear that he intends to trade one of Jose Calderon or Jarrett Jack this summer. With teams like the Bobcats, Pacers and Grizzlies all looking for point guards, there is a chance that a deal will in fact be struck before training camp. That said, the Raps are unlikely to acquire another point guard by trading a point guard.
The frontcourt is another area where the Raptors are looking to bolster, even though it's already crowded to begin with. Colangelo has often stated that he wants to get Bargnani back to his natural 4-spot, but no player on the roster is a natural centre, keeping Il Mago out of position. Newly-drafted Ed Davis and Amir Johnson are 6'10? and 6'9?, so they'd be pushed around down low in the paint. Davis is solid in the post, but doesn't yet have the muscle or strength to compete for position with the other vets in the East. While acquiring a centre would cause PT-disruption, Colangelo may decide that having someone who could hold down the fort for a season or two while the youngsters round into shape would be a worthwhile gamble.
The Raps have some interesting options on the wings, but none appear to be the scoring threat that Bargnani needs to create the inside-outside duo. Guys like DeMar DeRozan and Sonny Weems are great players, but neither one is particularly adept at creating shots off of the dribble and both have regrettably limited range on their jump shots. While they could improve in those areas by the time the season rolls around, if Colangelo can secure a more sure-fire talent at that position, he may look to do it.
Hornets – Darren Collison & Emeka Okafor. Collison is dirty. Filthy. He's a perfect fit for the Raps, and is a realistic acquisition because he plays behind Chris Paul and wouldn't be an immovable commodity. He's an outstanding playmaker (averaging 9.1 APG in 37 starts last season), a high-percentage shooter all the way out to the three-point line and his up-tempo playing style meshes perfectly with the athletic youth the team has from top to bottom. To get him, though, the Raptors will need to absorb one of the Hornets' onerous salaries. They would love to get out from under the four years they have committed to Emeka Okafor ($11.5M this season), but that trade made a lot more sense before the Raptors drafted two young bigs at the end of June. It's unlikely that absorbing the two-years left on James Posey's contract (2-years, approx. $6.6M per) alone would get it done, so the Raptors would probably have to sacrifice a young prospect to get the Hornets to bite on that trade, which Colangelo is likely unwilling to do. Marcus Banks and Reggie Evans' contracts expire at season's end, as does Peja Stojakovic's, which would give the Hornets $7M relief. It also gives the Hornets two smaller expiring contracts that might be easier to move in subsequent trades than Peja's bloated $15M contract. With the Hornets looking to sell the team right now, lessening that financial burden could be a big selling point for the team. Getting Peja would also give the Raps the option to move him at the deadline or hang onto it and let it expire at the end of the year. They could even buy Peja out, saving money and minutes in a crowded position.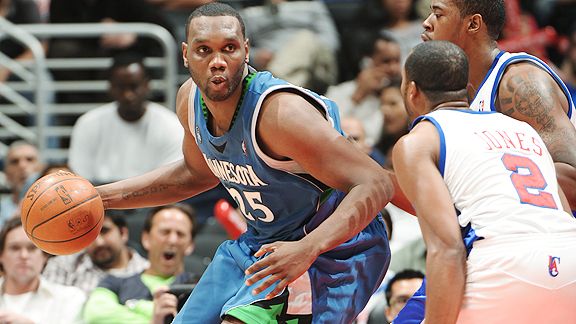 Timberwolves – Al Jefferson & Jonny Flynn. Jefferson is only two seasons removed from a 21-and-11 season where he played in all 82-games. He's had some injuries concerns since then, and last year he struggled in Kurt Rambis' offensive system, but Flynn and A.J. are solid talents that are tough to beat in this market. The Wolves would have to include Flynn in the deal if the Raps were to make a move on Jefferson. Flynn is a speedy guard who, like Jefferson, was wasted trying to play under Rambis, where his speed and proficiency in the pick-and-roll were irrelevant. They already have Ramon Sessions on the roster to cover his loss, have had exploratory talks with free agent Luke Ridnour and the team expects to bring Ricky Rubio over next season, so the team is deep at the 1. They insist they are not shopping Flynn, but if they want to shed Jefferson's big contract, they'll need to sweeten the deal somehow, and Flynn does just that. To make this trade work within in the $10M window that the Raptors have available to play with, the Wolves would probably have to take Reggie Evans and another expiring contract, with the rest of the money covered by the team's trade exception. Jefferson makes $13M next season and Flynn makes $3.2M, but Jefferson is only on the books for two years after this one, which makes him less of a financial burden than Okafor, Ellis or Biedrins. What makes this trade less appealing, though, is that Jefferson is a poor defender and plays the 4 and is out of position at the 5, just as Bargnani is. Offensively, the Raps would be in good hands, but defensively, they'd be a mess protecting the paint. Flynn isn't an ideal playmaker, either. Still, if Colangelo wants to replace Bosh's 20-and-10 offensive while acquiring a backup pivot, this is the deal.
Warriors – Monta Ellis & Andris Biedrins. The Warriors are re-making themselves and looking to trim payroll in the process. For this to happen, the Warriors would need to take Hedo Turkoglu's remaining 4-years ($9.8M this season), and in exchange the Raptors will simply absorb the remaining 4 years of both Ellis and Biedrins. Ellis be slotted at the point guard spot so as not to deny minutes to DeRozan, Weems or Kleiza, and a guy who already excels at the fastbreak style that Jay Triano wants to run next season, not to mention Ellis' excellent scoring touch. While the Warriors would probably be reluctant to take on Hedo's contract, they are very thin at the 3-spot and would get to trade two massive salaries for one, which for a team for sale is a bonus. The Raps would take back a lot of salary, but also a lot of talent and potential, a deal that they should jump on given the opportunity.
Back to Bosh. At the end of the day, I believe that Bosh has hurt his legacy. His reputation, his name and his reputation have all been tarnished for this. Not just for leaving Toronto the way he did, but for joining Wade and LeBron on what looks like Team USA junior. Bosh could have maintained a much better profile had he been upfront and direct about his future plans rather than beating around the bush when he knew full-well what his intentions were. Much of it for me is the gloating and bragging about the recruiting process and the other franchises that were looking at him, made it more difficult for Raptors fans and the city to swallow Wednesday's news. After 7 seasons with the organization that drafted him, where he has been nothing but a team player, a strong representative of the franchise, and a generous contributor to the community, Bosh could receive the kind of reception upon returning to the Air Canada Centre that to date has been reserved solely for the likes of Vince Carter. The Raptors' organization, coaches and fans all supported Bosh whole-heartedly from Day 1, but it's just a shame that the feeling wasn't mutual.
VoV
Marc Valeri – captaincharisma@hotmail.com
VoV – www.voiceofvaleri.com
Add me on Facebook at Facebook.com/VoiceofValeri
Add me on Twitter at Twitter.com/VoiceofValeri
Join the VoV Forums
Ask me anything on FormSpring
Get VoV RSS feeds
Become a Fan of VoV on Facebook
Join the VoV Facebook Group