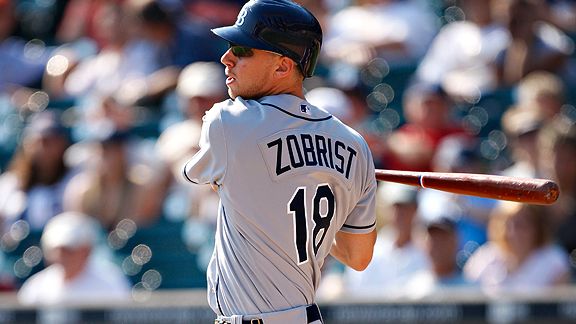 MLB
– According to Marc Topkin of the St. Petersburg Times, the Rays have signed OF Ben Zobrist to a long-term contract extension. An official announcement is expected later today. The first three years of the contract are guaranteed, and cover all of his arbitration years, while the team holds options for the 2014 and 2015 seasons. Zobrist, who turns 29 in May, just missed eligibility as a "Super-Two" player this offseason. He enjoyed a breakthrough season in 2009, batting .297/.405/.543 with 27 homers and 91 RBI. He is batting .258 with six RBI to begin this season.
– Mariners' LHP Erik Bedard (shoulder) threw a 60-pitch bullpen session Wednesday and remains on track for a May 23 return to the rotation.
– The Tigers have placed DH Carlos Guillen (left hamstring) on the 15-day DL. Guillen suffered the injury while rounding third base in the fifth inning of Thursday's game. He was batting .311/.391/.443 with one home run and eight RBI to begin the season.
– Astros' RHP Alberto Arias (shoulder) underwent extensive surgery Thursday on his right shoulder and is out for the remainder of the 2010 season. The procedure repaired his rotator cuff and labrum, while also removing calcium deposits in his throwing shoulder. He'll get to rehabbing once the soreness dies down and will try to be at full strength by the start of spring training 2011.
NBA
– The NY Post reports that Russian billionaire Mikhail Prokhorev could become the Nets owner by mid-May. The team has finally been assured that everybody will be out of the way of building the new arena by the end of this month, though it took $3M to buy out the last fella from his three-bedroom condo. That was the man who held up construction for about a decade through various protests with his organization, Develop Don't Destroy Brooklyn.
Once everything is vacant, Prokhorev can apparently become owner. So it's looking like he'll be taking over in mid-May, which means Prokhorev will likely be there for the draft lottery on May 18. Once the team knows where it will draft in the top four slots, it will look for a new coach. Nets exec Rod Thorn told the Post that "There may be more interest in us (by potential coaches) after the lottery." And then be ready to throw some money around for a big-name free agent when the window gets thrown open on July 1.
– Celtics' F Rasheed Wallace was fined $35K by the NBA on Thursday for publicly criticizing game officials.
– The NBA has fined Magic' coach Stan Van Gundy and G Matt Barnes $35K each Thursday for publicly criticizing officials.
NFL
– The Rams selected QB Sam Bradford with their first overall pick. S Eric Berry went to the Redskins 5th overall, while WR Dez Bryant went 24th to the Cowboys and QB Tim Tebow went 25th to the Broncos.
– Cowboys' owner Jerry Jones insisted Thursday night that the Cowboys are not trading WR Roy Williams. "We won't be moving Roy," Jerry said. Jones made similar comments prior to WR Terrell Owens' 2009 release. The Cowboys' trade up to draft Dez Bryant strongly indicates that Williams is on the outs. Jones may hope to salvage a late-round pick for the $54M mega bust, but no one would give that up. Jones did recently pay Williams' $9.5M roster bonus. We'd bet on Bryant beating Williams out in camp if the two are to compete to start.
– Titans coach Jeff Fisher said Thursday night that the "door is shut" on an DE Albert Haynesworth trade after the conclusion of the first round. The Titans would have addressed another area instead of defensive line had they traded for Haynesworth before selecting at No. 16 overall. Now Jason Jones will stay at tackle with Derrick Morgan on board as an end. With the Lions also selecting Ndamukong Suh, the two most likely Haynesworth suitors are out of the picture.
– The Seahawks will make a formal announcement regarding longtime LT Walter Jones next Thursday. He's fully expected to retire. The Seahawks made it clear that they've moved on from Jones by using the 6th-overall pick on Russell Okung Thursday night, when C.J. Spiller was still on the board. If the season began today, Seattle's already much-improved line would look like this: LT Okung, LG Ben Hamilton, C Chris Spencer, RG Max Unger, and RT Sean Locklear.
WWE
– Mike Knox has also been released by WWE.
TNA
– TNA Knockout Daffney posted a message on her Myspace blog about the injuries she suffered at Tuesday's TNA iMPACT! tapings. During a dark match, Daffney's opponent Miss Betsy did a sitdown splash on her chest and she blacked out. After being helped to the back by trainers, she was sent to the hospital. TNA President posted a message on Twitter that she suffered deeply bruised sternum & a severe stinger (temp spinal trauma). Here's what Daffney wrote on Myspace:
"When the trainers & everyone came to the ring, our TNA on site trainer came up near my head and I told him that my lower sternum hurt. I also told him my neck hurt – yet felt weird and it felt very warm. He then told me to go ahead and straighten my leg. From the hush that fell and tense vibe in the air, I said, " It's not moving, is it?" They all distracted me with other routine questions. A few minutes later he asked me to wiggle my toes. Same tense air that could be cut with a butter knife. Me: "They're not moving, huh?" The whole time I just stared straight to the top of the Impact Zone and prayed. Everyone around me was saying reassuring things so I just stayed still and answered questions. The next time I was asked to wiggle my toes, I could feel them going – and there was a collected sigh of relief. Stingers – (especially bad ones) can make you go numb for a short while – so once the sensation came back I kept praying, "It's just a stinger. And NO – my sternum/ribs aren't broken…" X-rays at the hospital showed just that. Are you there God? It's me…Daff. "
VoV
- Email – captaincharisma [at] hotmail.com
- Twitter – @VoiceofValeri
- FB Group
- FB Fan ap