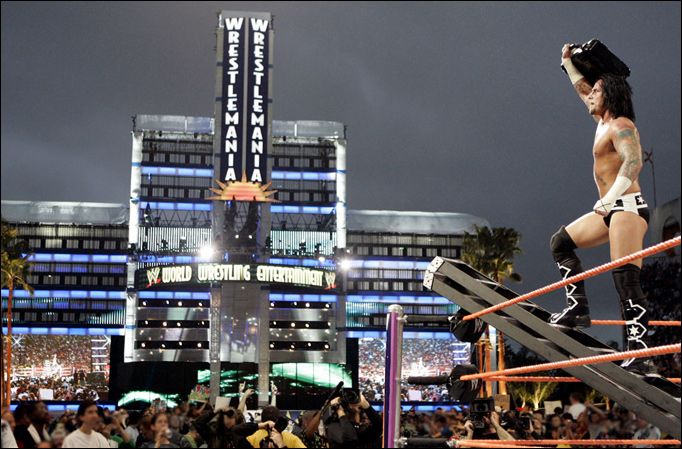 WWE
– In light of news that WWE will be holding a Money In The Bank-themed PPV event in a few months, the belief is that annual match has been dropped from WrestleMania. A number of wrestlers are unhappy about the apparent move because participating in WrestleMania results in a huge payday – which they may not be getting now. It should be noted that a decision has not yet been officially made as talent have yet to be informed of anything.
-– Ezekiel Jackson has been moved to the Smackdown Superstars page on WWE.com. Meanwhile, Trent Barreta and Caylen Croft are still listed as members of the ECW roster despite appearing on last night's episode of SmackDown. It's worth noting that the WWE Superstars page indicates that remaining ECW talent will be distributed to Raw or SmackDown by way of draft. The page reads: "Check out Christian and the rest of the final ECW roster before the Superstars are drafted to either Raw or SmackDown."
– TMZ.com reports that Hulk Hogan and his son Nick have settled the lawsuit filed against them by the family of John Graziano, who was seriously injured while a passenger in Nick Hogan's Toyota Supra when he wrecked it in the summer of 2007. The terms of the settlement are confidential. It's believed that Hulk Hogan settled the lawsuit to avoid the "media circus" that a trial would have brought and to resolve the matter in a way that's as painless as possible" for both the Hogan and Graziano families. Hogan's attorney, David R. Houston, tells TMZ they are "pleased as this was in the best interest of John." Linda Hogan, who was also sued by the Grazianos over the car wreck, reached a settlement with the family last month.
-– Regarding Lance Cade, he remains under contract to WWE but is simply not being used in any capacity. He worked an FCW event late last year and hasn't been seen since. No one knows when he'll be returning to television, let alone which brand he'll end up on.
– Former ECW Champion Ezekiel Jackson has been confirmed to SmackDown.
MLB
– The Tigers have signed OF Johnny Damon to a one-year/$8M deal with no option for a second year. Damon will become the Tigers' primary left fielder and bat second.
– Ken Rosenthal of FOXSports.com reports that 1B Carlos Delgado recently underwent another hip surgery, according to his agent David Sloane. Dr. Marc Philippon reconstructed the labrum in Delgado's right hip and also performed a micro-fracture procedure on his hip socket. He's expected to miss somewhere around four months, but still plans to play this season. Sloane said, "He wanted to play every day. He felt, despite the time it would take, it was a better option for him to be the Carlos Delgado of old instead of an old Carlos Delgado."
– The Mets have signed C Rod Barajas to a one-year/$1M deal. He can make another $1M in "easily-attainable" incentives, according to Ken Rosenthal. Barajas immediately becomes the favourite to start behind the plate. He batted just .226/.258/.403 last season, but hit 19 homers with 71 RBI. The Rangers had offered a one-year/$1.5M deal.
– Cubs' INF Ryan Theriot lost his arbitration hearing against the Cubs and will earn a $2.6M in 2010. Theriot was requesting $3.4M after hitting .284/.343/.369 with seven homers, 21 steals, 81 runs and 54 RBI last season, but in losing still ends up with a five-fold raise from his $500K salary in 2009.
– ESPN.com's Buster Olney reports that the Indians have signed 1B Russell Branyan to a one-year/$2M contract. The deal also contains $1M in performance-based bonuses and a $5M option for 2011. Branyan, 34, will provide insurance at first base and DH. The contract is only pending a physical. Branyan also drew heavy interest from the Rays.
– The Blue Jays have signed C Jose Molina to a one-year/$400K contract. Molina makes an extra $400K if he makes the Opening Day roster. The deal includes some performance-based incentives and a club option for 2011 worth $1.2M. The 34-year-old Molina will bring solid defense to Toronto's backup catching position, but nothing at the dish. He hit just .217/.292/.268 with one home run and 11 RBI in 138 at-bats last season.
– Dodgers' manager Joe Torre said Saturday he has committed himself to a fourth year with the team, ending speculation about whether or not he will return in 2011. Torre's current contract runs through the upcoming season, but talks are underway to extend his deal one more year. After 2011, the 69-year-old with four World Series titles as a manager said he would call it quits. The first two years of his three-year/$13M contract have been successful as the Dodgers advanced to the National League Championship Series both times.
– The Astros have extended the contract of GM Ed Wade through the 2012 season. Houston went 74-88 last season, its second losing record in three years.
NHL
– F Jaromir Jagr, who has two goals and an assist in two games for the Czech Republic, indicated he would likely entertain offers to play in the NHL next season. Trying to downplay the situation Jagr told reporters, "Maybe I want to play here". Stay tuned.
NFL
– Patriots' WR Randy Moss doesn't expect the Patriots to re-sign him after his contract is up next offseason.
Moss also confirmed that he played through a shoulder separation sustained in Week 5. He indicated that he has "a lot of respect" for the Pats, but he understands they aren't an organization that likes to pay high-dollar contracts. In the final year of a three-year/$27M deal, Moss expects to play for a new team in 2011. Local beat writers have speculated that the Pats aim to get back to a more conservative offense with a dominant ground attack.
– The Cleveland Plain Dealer reports that Browns' KR Josh Cribbs' new contract could be finalized by next week. NFL Network's Jason La Canfora reported Thursday that the framework for a three-year deal is already in place, though the sides haven't agreed on how much guaranteed money Cribbs will receive. Expect him to wind up with around $8-9M guaranteed. Cribbs has been asking for $10M.
UFC
– Top heavyweight contender Frank Mir (13-4-0) sat down for an interview with WXDX's Mark Madden yesterday to discuss a potential bout with Brock Lesnar (4-1-0) where Mir shared some thoughts about what he would like to do to the champion if presented the opportunity:
"I want to fight Brock Lesnar. I hate who he is as a person. I want to break his neck in the ring. I want him to be the first person that dies to Octagon-related injuries."
Mir has been fixated on avenging his loss to Lesnar, as he has clearly stated in almost every media appearance since relinquishing the heavyweight belt to Brock at UFC 100 last summer, but it seems that his focus has turned into a dark obsession. As the interview audio has yet to be released, it remains to be seen whether Mir made these remarks jokingly or if they were taken completely out of context, but the transcript makes it seem like Mir is going nuts.
The more hardcore MMA fans can probably relate to Mir's sentiments as it has been frustrating to see the former WWE superstar earn his first title shot after only two wins inside the octagon, but the fact remains that Lesnar has proven himself a worthy champion and has already beaten Mir at his own game. It will be interesting to see how the UFC handles these comments, and what, if any, repercussions there will be for Mir airing his morbid fantasy in public.
TNA
– TNA President Dixie Carter spoke to Brian Fritz of FanHouse.com this week about iMPACT!'s upcoming move to Monday nights on March 8. Dixie spoke about what it's going to be like competing with WWE head on every single week. She knows TNA is playing a high stakes game, but sounds ready to lead her company into battle. Here are some highlights of what she said about:
How Everything Came Together: "Well, we've talked about a move to Monday nights for a while, since, for over a year and it just seemed like the time was right. When I knew Hulk Hogan was coming on board, I just kind of put a halt to that and just thought how great would it be for the first time he debuts on our show, to let that be the first time we go to Monday night and the timing turned out perfect."
The Pressure of Competing Against WWE: "You know, I don't think of it that way. The days that were so hard, that was pressure. There used to be a lot of pressure. I don't feel that pressure anymore. I've always handled it really well because there have been some very hard times in this company. And we still that little engine that could. This is a David vs. Goliath story if I've ever heard it and we are just so excited and so filled with energy but don't have such expectations that they will be failures if we don't meet them. We need to stay steady and continue to grow this."
Hulk Hogan's Role in TNA & Making New Stars: "It has been the best decision I ever made. I don't think I've ever had one conversation with Hulk Hogan about Hulk Hogan. Every conversation I have with him is about the other TNA talent we have and how can we make them better and how can we make them household names. People are just starting to see the very tip of this man's genius in some of these things that we are going to make stars who have worked so hard to get to a certain level and truly take that next big step."
– Dixie Carter informally announced yesterday on her Twitter account that TNA has signed Shannon Moore to a contract.
VoV
– Email – captaincharisma@hotmail.com
– Twitter – @VoiceofValeri
– Facebook – facebook.com/thecanadianrage