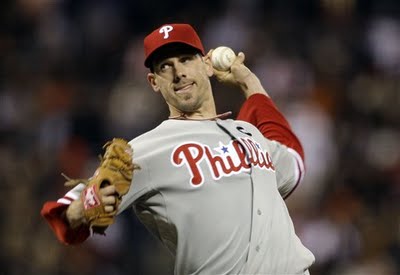 VoV
-– You can keep up with VoV through Twitter by clicking here.
-– Peepulation! I have terrific news about the site – not only did VoV just break its own record and score the biggest traffic month in its short 10.5 month history, but VoV has also just recorded it's 2,000,000th visitor! That reeks of awesomeness! Thanks again to the ever-growing peepulation, it's your continued readership that has helped make VoV the fastest and most accurate site to late-breaking news!
MLB
– The Phillies have exercised their $9M 2010 option on LHP Cliff Lee. The two sides are expected to begin negotiations on a long-term deal soon, estimated to be in the seven-year/$161M range.
– The D'Backs have exercised their $8.5M option on RHP Brandon Webb. The buyout was $2M.
– Dodgers OF Manny Ramirez has exercised his $20M contract option for 2010. Ramirez hit .290 with 19 home runs and 63 RBIs in 104 regular season games. He missed 50 games while suspended for violating baseball's drug policy.
– The White Sox have bought out OF Jermaine Dye for $950K instead of exercising his $12M option. Dye, the World Series MVP in 2005 for the White Sox, signed a two-year/$22M extension late in the 2007 season. This year, the 35-year-old Dye batted .250 with 27 home runs and 81 RBI in 141 games.
– The Mets have bought out RHP J.J. Putz for $2M instead of exercising his $9.1M option. Putz was 1-4 with two saves and a 5.22 ERA in his first season with New York before undergoing season-ending elbow surgery in June.
– Yankees RHP Mariano Rivera, who turns 40 this winter, told Yankees fans Friday that he hopes to continue pitching for another five years. Rivera made the claim during the Yanks' championship parade in Manhattan. He may have been caught up in the euphoria of the moment, but it's absurd. Rivera is still dominating batters using basically one pitch and will continue to do so as he long as he maintains his control.
– After meeting Friday with GM Ruben Amaro Jr., Phillies RHP Brett Myers was told that the Phillies will not attempt to re-sign him. Myers spent eight seasons in Philadelphia, going 73-63 with a 4.40 ERA in 1,183 2/3 innings split between the rotation and bullpen. When healthy he's a qualify third or fourth starter and potential late-inning reliever, but injuries and off-field issues no doubt convinced the Phillies to move on.
– The Phillies are exploring options to replace 3B Pedro Feliz, according to GM Ruben Amaro Jr. The Phils have until Monday to decline or exercise Feliz's $5.5M option for 2010. "More than anything else, we want to see what options may be out there for us, and decide whether picking his option up is best suited for this club to try to move forward." Feliz hit just .266/.308/.386 this season but he still plays an excellent third base.
– The Angels have signed GM Tony Reagins has agreed to a long-term contract extension. Reagins has served as the Angels' GM since October of 2007 and was the director of player development before that. He's been a very active and very successful GM since taking over for Bill Stoneman. No word yet on the terms.
– The Brewers have traded SS J.J. Hardy to the Twins for OF Carlos Gomez.
– The Nationals have declined their $10M option on OF Austin Kearns and have bought him out for $1M.
– RHP Rich Harden has filed for free agency.
– SS Nick Green has filed for free agency.
– The Brewers have declined their option on RHP David Weathers and OF Mike Cameron.
– The Rockies have declined mutual options on C Yorvit Torrealba and LHP Alan Embree. Torrealba receives a $500K buyout instead of a $4M salary, and Embree gets a $250K buyout instead of a $3M salary.
– The Tigers have declined options on OF Marcus Thames and C Matt Treanor.
– OF Reed Johnson has filed for free agency.
– Marlins OF Cameron Maybin (torn labrum) is scheduled to undergo surgery this weekend. Maybin first began experiencing discomfort in his shoulder in late August but was able to play through the pain. He finished the season strong, going 22-for-78 in September and 5-for-14 in October, and is expected to open the 2010 season as the Marlins' starting center fielder. The procedure is fairly minor, so he should be ready for spring training.
– The Royals have officially traded 3B Mark Teahen to the White Sox for 2B Chris Getz and 3B Josh Fields. Gordon Beckham moves to second for the White Sox.
NBA
– Kings G Kevin Martin (broken wrist) will undergo surgery Monday. The surgery will force him to miss at least eight weeks.
– Bulls F Tyrus Thomas (broken arm) is out four-to-six weeks. He suffered the injury during a weight training session Friday.
NFL
– The Colts have placed SS Bob Sanders (torn left biceps) on the IR, ending his season. His season ends with three tackles and a pick in just two appearances. Beat reporter Philip B. Wilson speculates that the Colts will cut their losses with Sanders in the offseason to free up salary. Sanders, 29 in February, is scheduled to make $2.275M in 2010. The 2007 Defensive POY has played in just 27 of a possible 64 games over the last four seasons.
WWE
– Jim Ross has updated his blog. The highlights:
WWE's Declining PPV Buyrates: "PPV's coming at us fans with such frequency is challenging to. process, prioritize and to afford. However, with the PPV business being such a vital part of any wrestling organization's bottom line, I would be surprised to see the number of PPV's decrease. So, it will come back to providing the consumer with what they are willing to and can purchase which will always be attraction driven fueled by button pushing creative which is no exact science."
Jeff Hardy's Legal Situation: I see the continuance of the Jeff Hardy legal issue as positive news for Jeff. I'm not an attorney nor do I play one on TV but one can make an argument that if the authorities thought that they had an overwhelmingly strong case that they would not be interested in postponing the proceedings. I strongly feel that Jeff Hardy is NOT a drug trafficker whatsoever and that he will be vindicated. I am also not unbiased in this matter as I am a Jeff Hardy fan and have been since signing Matt and Jeff to their first WWE contracts.
A WWE Cable TV Channel: "WWE TV Network…to me it seems as this is a logical progression for WWE in the future. If I had to place a bet, I would bet that WWE having their own TV channel on cable and satellite would happen sometime Sooner than later. I don't know when this channel would launch but I do know that WWE has plenty of programming to help start a network. Plus new, non live event programming can be facilitated much like ESPN has done with their, seemingly, zillion hours of original programming that they produce for their multiple platforms.
Edge at WrestleMania 26: "I think Edge being 100 percent by Wrestlemania 26 is going to be a photo finish and I hope that I am wrong on that assumption. Edge had taken his game to another level prior to his injury and he will no doubt return to the ring fresher and ready to turn more heads if he makes sure that he is totally healthy. Torn Achilles obviously cannot be taken lightly. Edge would arguably need to be close to ready by January to really be able to capitalize on the promotional, TV build up for Phoenix or at least that's one school of thought."
– WWE Issued a following press release today announcing that comedian Dennis Miller will host a special 3-hour edition of WWE Raw on December 14. The 3-hour broadcast will take place from the American Bank Center in Corpus Christi, Texas and will feature the 2009 WWE Slammy Awards. 2009 Slammy Award categories will include: WWE Superstar of the Year, WWE Match of the Year, and WWE Diva of the Year.
– The man Chris Jericho targeted with racist and homophobic slurs on stage at the Sacramento Horror Film says Jericho's apology was a "bunch of crap" and calls the WWE superstar an ***hole. Mr. Lobo, the host of the film festival, told TMZ.com he was deeply offended by the insensitive remarks and denies Jericho's claim that "everyone on stage was having a blast." Lobo says he has never received an apology from Jericho, saying, "I don't think [Chris] has the capacity to give an honest apology. I don't think it's in his character."