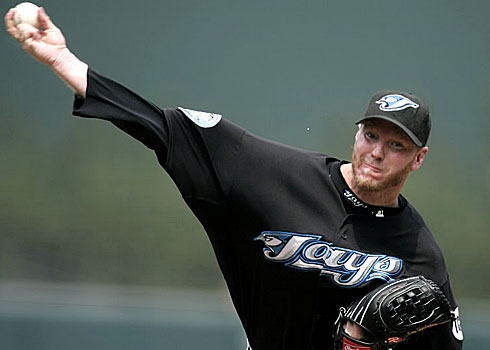 MLB
– White Sox LHP Mark Buehrle has pitched a perfect game against the Rays. Buehrle, who tossed on the second perfect game in ChiSox history, improved to 11-3 on the season. He also finished with a clean sheet – 9 IP, 0 H, 0 ER, 0 BB, 6 K. Congrats on the rare accomplishment.
– The Phillies are not sold on LHP J.A. Happ RHP Kyle Drabek being an untouchable in a Roy Halladay trade, but the Phills would like to hold onto him. Doc has also given GM JP Ricciardi a list of teams that he would approve a trade to. As I reported yesterday, Halladay is believed to be "emotionally gone" from the team, and I've heard more of the same today, saying that he just wants out. A deal is unlikely be the "soft" July 28 deadline set by Ricciardi, so something could materialize over the winter.
– According to Blue Jays general manager J.P. Ricciardi, ace RHP Roy Halladay told the team that he would test free agency when his contract runs up after the 2010 season. This would help explain why the club is so open to dealing one of the league's premier pitchers. Ricciardi told the FAN590, "What's changed is Roy has told us that he's going to test the free-agent market." The Blue Jays want a decision on a Halladay trade by July 28. Many teams have been linked to trade negotiations involving Toronto's ace, including the Phillies, Brewers, Dodgers, Cardinals, White Sox, Rangers, Red Sox and Yankees. "Some are serious and some I would say are delirious," Ricciardi said.
– According to a number of sources, the Indians and Rays have discussed a deal that would send LHP Cliff Lee to Tampa Bay. Indians GM Mark Shapiro is asking for multiple high-end prospects in exchange for Lee, namely Wade Davis, but Tampa Bay is reportedly balking at that idea. It's believed that the Rays were trying to involve a third team to satisfy Cleveland's pitching demands.
– The Cardinals are again showing interest in A's OF Matt Holliday. The A's are targeting 3B Brett Wallace. The odds of a deal are "50/50." The Cards had also contacted the Nationals in regards to OF Josh Willingham. Wallace seems like a high price to pay for Holliday, who is merely a rental player for the rest of the season before becoming a UFA. But Holliday and 1B Albert Pujols together would be tough to pitch against. Holliday makes $13.5M this year and will likely be a Type A free agent after the season. Stay tuned.
– The Rays are now pursuing Victor Martinez. They have Jeff Niemann, Wade Davis and Jeremy Hellickson to offer the Indians, though the clubs aren't believed to have exchanged names. The Red Sox have many top young pitchers as well and have been discussing Martinez for weeks with the Indians. Boston remains interested in V-Mart, even after adding 1B Adam LaRoche, but one GM believes the two clubs would have completed a deal weeks ago if one was going to happen.
– According to sources, the Rays are pursuing many, but remain unlikely to acquire any of them. Payroll limitations could prevent the Rays from adding Indians C Victor Martinez, LHP Cliff Lee or Jays RHP Roy Halladay. The Rays would consider parting with LHP Scott Kazmir and OF Carl Crawford, though the chances they deal their star left fielder are "close to zero."
– White Sox OF Brian Anderson has asked the team for a trade, but the team has reportedly tried without any success. The 27-year-old said he needs to play every day.
– LHP Jim Parque, a former pitcher for the White Sox and Tampa Bay, says he used human growth hormone "about six times" after he was cut by Chicago in 2002 and before he tried a comeback with the Rays the following season. Parque made his confession in a lengthy, first-person account printed Thursday in the Chicago Sun-Times. He says he tried HGH in a bid to recover from a shoulder injury that he blames for derailing his career. "It never gave me more strength or bulked me up, but it provided quicker recoveries. I began to throw harder because my shoulder felt no pain. I was able to withstand more throwing, creating a work environment that I had not experienced in two years." Parque made five starts for Tampa Bay in 2003, compiling an 11.94 ERA. He never pitched again in the majors. In 2007, he was named as a drug user in the Mitchell Report. A left-handed pitcher with a 31-34 career record who never made big money, Parque said he sustained a torn labrum during the 2000 playoffs and, after exhausting every other possible remedy, turned to HGH in an attempt to save his career.
– The Orioles have two prices for LHP George Sherrill. Teams willing to take on his salary have to give up a premium prospect and another prospect, but if the O's have to pay Sherrill, they want a premium prospect and two other players.
– The Red Sox have acquired OF Chris Duncan from the Cardinals in exchange for SS Julio Lugo.
– The Tribe have traded RHP Rafael Betancourt to the Rockies for P Connor Graham. The Rockies needed a quality bullpen arm and they got it in Betancourt, who will immediately become its top setup man to closer RHP Huston Street. Betancourt missed a little more than a month of action earlier this year while dealing with a strained right groin. He's posted a 3.52 ERA in 30 2/3 innings this season.
– The Nationals have placed RHP Jordan Zimmerman (right elbow) on the 15-day DL, retroactive to July 19. Zimmerman has struggled recently, allowing 13 runs — nine earned — in his last three starts spanning 15 2/3 innings. He is 3-5 with a 4.63 ERA in 16 starts for Washington. No word yet on how much time he's expected to miss.
– The Astros have placed 1B Lance Berkman (calf) on the 15-day DL.
– Padres manager Bud Black will receive a one-year extension. lack's current deal expires after this season, but he'll soon be under contract to manage the Padres through 2010. Since 2007, Black has led the Padres to a 189-231 record. The highlight of his Padres career to-date came in 2007, when he led the Padres to within a game of a playoff berth.
– The Dodgers are still shopping for a reliever.
– The Phillies are shopping some of their pitchers.
– The Twins are shopping for infielders.
– The Phillies have some interest in Rockies OF Ryan Spilborghs, A's OF Scott Hairston and Tigers OF Ryan Raburn.
– The Cubs are looking at left-handed relievers, including Sherrill, John Grabow and Joe Beimel.
NBA
– In his new book, Cavaliers F LeBron James admits he smoked marijuana during his junior year in high school. James also says he struggled to cope with the sudden fame that came with being on the cover of Sports Illustrated when he was 17.
– The Lakers have resumed talks with F Lamar Odom. Talks broke down last week after Lakers owner Jerry Buss withdrew his offer to Odom. The Lakers had given Odom the choice of a four-year/$36M contract (the fourth season was only partially guaranteed) or a three-year/$30M deal. Buss reportedly became upset that Odom was negotiating with the Heat, who were limited to offering him a five-year/$34M deal. The LA Times reported the talks between Odom and the Lakers as "productive," but added there was no deal to report "at the moment." The Times also said Odom might receive a new offer less than the one Buss withdrew.
– The Pacers have waived G Jamaal Tinsley. If he clears waivers in seven days, he will become a free agent. When the waiver becomes official, none of the players who have had legal problems or were involved in the brawl between Pacers players and Pistons fans in 2004 will remain on the roster. Tinsley has career averages of 10.4 points and 7.0 assists, but he has been hampered by injuries and legal problems in recent years. The Pacers told him not to report to training camp last season and did not allow him to play. The NBA players' union filed a grievance for him in February, but the arbitration hearing scheduled for next week has been cancelled. He's still owed $14.7M by the Pacers. The Heat are rumoured to be interested.
– Wolves G Ricky Rubio plans to part ways with Spanish basketball club DKV Joventut even if the Wolves cannot reach a deal to bring their first round draft pick to the NBA. Wolves president David Kahn was in Spain this week to try and help the fifth overall pick negotiate a buyout of his contract with Joventut. Rubio is at odds with his boyhood club over a buyout clause that could cost the 18-year-old point guard as much as $6.6M. The NBA's collective bargaining rules limit the Timberwolves' contribution to $500K.
– The Spurs have signed F Theo Ratliff, 36.
NHL
– The Hurricanes have signed F Tuomo Ruutu to a four-year/$11.4M deal. Ruutu will make $3M this season, $4M in 2010-11 and $4.4M in 2011-12. He made $2.25M last season. Ruutu, 26, is coming off a regular season in which he had career highs with 26 goals, 28 assists and 54 points, then added a goal and three assists during the Hurricanes' run to the Eastern Conference finals.
– The Devils have signed F Travis Zajac to a multi-year extension. Zajac, 24, had career highs with 20 goals and 42 assists last season, and a team-leading plus-33 mark. He played in all 82 games for the second straight season, adding a goal and three assists in the postseason. Zajac, whose arbitration was to start later this week, has 51 goals and 87 assists in three seasons. He earned just $984,200 last campaign and will now make $2.75M next year, $3.5M in 2010-11, $4.5M in 2011-12 and $4.8M in 2012-13.
– The NHL has scheduled an arbitration hearing July 30 for F Jiri Hudler, who says he's leaving the Red Wings to join Dynamo Moscow of Russia's KHL. Hudler signed a two-year/$10M tax-free deal to play for Dynamo Moscow. The Red Wings are seeking to retain rights to the 25-year-old winger should he return to the NHL in the future. Hudler made $1.15M with the Red Wings last season, and he reportedly turned down Detroit's offer of five-year/$15M contract.
– The Islanders have signed G Martin Biron to a one-year deal. Biron was 29-19-5 for the Flyers last season, with a 2.76 GAA, and led Philadelphia to the Eastern Conference finals against Pittsburgh. The move is weird, considering they signed UFA G Dwayne Roloson to a two-year/$5M contract on July 1st. The Islanders also already have G Rick DiPietro locked up through the 2020-21 due to his 15-year deal agreed upon in 2005.
– Former Leafs G Martin Gerber has signed with Atlant Moscow of the KHL. He posted a 10-14-1 record with a .902 save percentage and a 3.03 save percentage between Ottawa and Toronto.
– Blackhawks GM Stan Bowman called F Marian Hossa's shoulder injury "relatively minor" on Wednesday. "At this point we're watching him and monitoring how he progresses. We're hoping that like a lot of other guys, they rehab it and are good to go." Hossa is rehabbing his right shoulder and the Hawks will watch his recovery closely. Surgery has not been ruled out at this point, but Bowman said it "would be a last resort." If surgery is required Hossa may be out for a few months, which would likely sideline him for the start of the 2009-10 season. The Hawks also announced that they knew Hossa was hurt when they started negotiations with him this summer, meaning they were not overly concerned about his ability to play in their lineup next year. Stay tuned.
– Former Red Wings F Sergei Fedorov says a man entrusted to manage his money during the past 11 years swindled him out of $43M. In a lawsuit filed Thursday in Wayne County Circuit Court, Fedorov says Joseph Zada of Grosse Pointe Shores also broke a promise to repay him $60M by April 20.
– Former Flyers captain Dave Poulin has joined the Maple Leafs front office. Poulin was unveiled Thursday as the club's new vice president of hockey operations.
WWE
– Some people backstage are not pleased with Jeff Hardy's decision to take time off while Smackdown! is short of main event talent, however he was received praise for his recent performances. WWE has been impressed with his work ethic on the road and his great job of putting CM Punk over. The general feeling is that it is imminent that Hardy will take a break, which is why WWE is working hard to get talent like John Morrison and Dolph Ziggler over.
– Bret Hart appeared on the Busted Open radio show Sirius satellite radio and discussed his current relationship with Vince McMahon.
"It's kind of live and let live. I appreciated when they did the DVD thing with me. That meant a lot with me. I've always tried to be more positive than negative. We had a bad ending, but we certainly had some great years together. I'll never forget those."
"I think it goes as far back as when I had my stroke in 2002. He called me up and the conversation that we had, I like to call it a pep talk that he gave me at that time. I think it meant something and I felt it was very sincere. I think it was that conversation that kind of turned the tide for us. I wouldn't be talking to you right now if it wasn't for all the things that Vince McMahon did for me years ago."
– There is no set return date for Edge, although the hope is that he can return for an angle with Chris Jericho by WrestleMania 26.
– At this point, it is highly unlikely that Undertaker will be returning in time for SummerSlam. The current target date for his return is the September pay-per-view on the 13, Breaking Point. Likewise, Shawn Michaels is expected to return at SummerSlam.
– As previously reported, Vince McMahon shot down the idea of Hulk Hogan as a potential Raw guest host. There is heat between Vince and Hogan, but another reason that played into the rejection of the idea is that he felt it would be a waste to use a high profile name like Hogan for this angle. The feeling that it is best to use WWE greats to build major PPV matches.
– Jim Ross has updated his blog over at JRsBarBQ.com. Some highlights:
Steve Austin's Tax Debt: Steve Austin: "Much has been made of the Steve Austin tax matter resulting from the sale of some property. Knowing Steve as well as I do, and we have not discussed this particular matter, I would assume that this is merely a clerical error and someone on the accounting or Realtor end dropped the ball. Austin is one of the most obsessed individuals I know regarding saving money and taking care of his business the right way."
"Austin 'got it' when I used to preach to the wrestlers about saving their money, preparing for their future, getting professional financial planning and income tax help and not living beyond their means IE pay one's bills and don't buy too much bling. Trust me, Steve Austin won't have any issues taking care of this $22K matter that I suspect simply fell through the cracks."
Jerry Brisco's Health: "Spoke with Jerry Brisco Tuesday afternoon while "in hurry up and wait mode" in Richmond. Jerry's doctors are extremely happy with the HOF'er's progress and expect him to make a full recovery from heart surgery after a few months rest. Having three months off sounds pretty intriguing to me but having to have heart surgery to facilitate such hopefully isn't in my cards. Jerry's speech and strength are making a big comeback!
Shawn Michaels' Return: There is rampant speculation that Shawn will return to WWE in time to compete at Summerslam but I have yet to hear that confirmed. HBK returning at Summerslam would be my guess but I just can't be sure at this time. Michaels is still, arguably, the best in ring performer in the business today."
– In case you haven't noticed, two-time WWE Women's Champion Beth Phoenix has not been seen in recent weeks. Her last appearance took place on the June 29th edition of Raw, which saw Mickie James defeat her, Kelly Kelly and Rosa Mendes to become the No. 1 contender for the Divas Championship. Phoenix has not appeared since, including house shows. As far as her status is concerned, she is not hurt, nor is there heat on her. She's not in the title picture at the moment and they are looking to focus on the bikini-looking women on Raw for the time being.
NFL
– ESPN's Ed Werder reports that free agent QB Brett Favre is now "conflicted" about whether he truly wants to return to the NFL. Werder says Favre got calls from Vikings Jared Allen, Steve Hutchinson, and Adrian Peterson saying they're sure they'd make the Super Bowl with him at QB. If not for the players' efforts, Favre "might have already decided against playing." Money is reportedly no issue, as the sides have a one-year/$10M agreement in place, but Favre remains uncertain he can make it through a full season. He's never missed a game in his life to this point.
– In a press conference Thursday afternoon, Steelers QB Ben Roethlisberger denied Harrah's Casino employee Andrea McNulty's sexual assault allegations against him stemming from a June 2008 incident. "I would never force myself on a woman," Roethlisberger said vehemently. He called McNulty's claim an "attack on my family," "outrageous," "reckless," and "false." "I will fight these allegations. I'm confident that the truth will prevail." Roethlisberger took no questions from reporters, but was forceful and convincing. It's unclear when the civil suit will begin.
– Cardinals GM Rod Graves says the club is "at least several weeks away" from even having substantive talks with WR Anquan Boldin about a contract extension. Graves and agent Tom Condon have had preliminary talks, but they obviously didn't get anywhere. The Cards' current priority is getting their top rookies under contract. It sounds like Graves will wait until the season to appease Boldin, who's severely underpaid with a $2.75M base salary.
– The Vikings have signed CB Antoine Winfield to a five-year/$36M contract. The deal includes $16.1M in guarantees.
– After speaking with the veteran receiver Tuesday night, Ravens coach John Harbaugh said he came away "optimistic and hopeful" that WR Derrick Mason will postpone his retirement and play this season. "He wants to make sure he's in the right frame of mind to compete at the level he's competed at his whole career, which is a warrior-type level," Harbaugh said, adding that Mason is "ready physically" and "healthy" after shoulder surgery. The two also discussed Mason's contract, which the 35-year-old has wanted upgraded, and the death of his close friend QB Steve McNair. GM Ozzie Newsome considers Mason "still a member of the Baltimore Ravens."