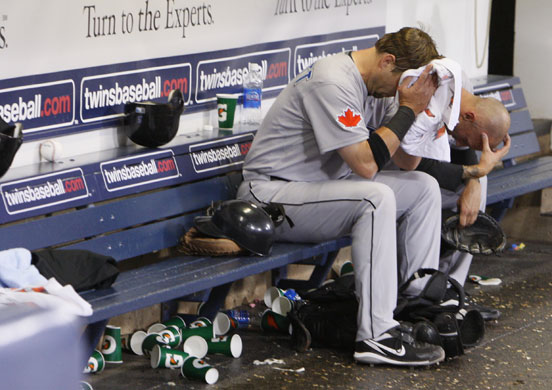 MLB
– With all the trade talk surrounding the Blue Jays and their ace RHP Roy Halladay, it's worth looking into other potential Jays members that could be on the block.
Now, some of the Jays' top young players and prospects, such as LHP Ricky Romero, OF Adam Lind, OF Travis Snider and 2B Aaron Hill aren't included, as the Jays are set for building for the future, and logically, trading building blocks consisting of cheap players with potential doesn't make any sense.
While there is no guarantee that any or all of the players below will be moved, each could have value to a club looking to make a push in the second half of the season. Roy Halladay, easily the cream of the crop, has been well covered, so we won't be going over his value here.
OF Vernon Wells (Salary information – 2009: $1.5M, 2010: $12.5M, 2011: $23M, 2012: $21M, 2013: $21M, 2014: $21M)

Two things should be noted about this deal; first, Wells received a signing bonus of $8.5M on March 1 and he'll receive that total for a final time on March 1, 2010. In essence, that means that in real money, the Jays will be handing out $21M to the centre fielder next season. Second, Wells has a full no-trade clause – as well as an opt out after the 2011 season. At this point, Wells is hitting .263 with nine home runs and 13 steals. Most Jays fans want the team to trade him, but they would realistically need to find a trading partner with a huge budget at this point, which isn't likely going to happen.

OF Alex Rios (Salary information – 2009 $5.9M, 2010: $9.7M, 2011: $12M, 2012: $12M, 2013: $12.5M, 2014: $12.5M, 2015: $13.5M – a club option with $1M buyout)

It appears as though Alex Rios has plateaued in his development. But after a horrible start to the season, he still has a chance to be a 20-home run, 20-steal player. I believe that there are a lot of teams in the game that would take a shot at Rios with the belief that he could thrive in a new environment. He's only 28 and seemingly has the tools to be a five-tool player. If he does move, it will interesting to see what the Jays would get back in a trade.

3B Scott Rolen (Salary information – 2009: $11M, 2010: $11M with additional $4M bonus)

Rolen, who came to the Jays in January of 2008 for 3B Troy Glaus, looks to be past his shoulder injuries and is having one of his better offensive seasons in years. While he won't hit 20 home runs per season, his gold glove defence at third, and his impressive .320 average can't be overlooked. While Rolen does earn a hefty paycheck, he comes off the books following the 2010 season. The Jays have said that they're not interested in moving him, but if the right deal comes, I'd say he's good as gone.

1B Lyle Overbay (Salary information – 2009: $7M, 2010: $7M)

Overbay, who led the Majors with 53 doubles back in 2004, has become a platoon hitter with 1B Kevin Millar. Against right-handers, he's hitting .262, and eight of his nine home runs have come against righties. His OBP is .389 and he draws 40 walks and only struck out 31 times against right-handers. His contract isn't huge and he does put up numbers in the right situation, which could make him desirable to other clubs.

SS Marco Scutaro (Salary information – 2009: $1.1M with $100K bonus each for 400, 425, 450 and 475 plate appearances)

Outside of 2B Aaron Hill's standout season, there might not be an argument that Scutaro has been the team's surprise on offence, considering he was said to be 'not the prototypical leadoff man.' He's one walk short of tying his career high and he has half a season to go. Scutaro is hitting .289 with a .384 OBP. He's really developed discipline at the plate, as shown by his 56 walks (tops among the AL) and only 41 strikeouts. Because he's a free agent at the end of the season and is having a career year, you can't rule Scutaro out of any potential deals.

SS John McDonald (Salary information – 2009: $1.9M)

The rarely used Johnny Mac has only recorded 34 at-bats in 31 games this season, but his value isn't at the dish – it's on the field, where he's an excellent defender. Because he would only cost about $1M for the rest of the season, many contenders that need a defensive replacement should be calling about his services.

LHP Brian Tallet (Salary information – 2009: $1.015M)

Tallet has been surprisingly effective since injuries forced him into the starter's role. He's posted a 5-6 record while starting 17 games. His ERA as a starter is 4.86 and the left-hander has held opponents to a .251 batting average. Teams down the stretch always seems to be looking for lefties, and because Tallet can either start or pitch in relief, his value would have to be a little higher. He's still eligible for arbitration, which means that if a team acquires him, it wouldn't be a rental situation.

RHP Jeremy Accardo (Salary information – 2009: $900K)

Even though he doesn't make a great deal of money and will be under the club's control for a few seasons, it's possible that both sides wouldn't mind a change of scenery at this point. The one-time closer fell so far out of favour this season, he spent over two months in Triple-A despite the Jays being decimated by injuries to their pitching staff.
– Padres GM Kevin Towers said that there is a "50-50″ chance that RHP Jake Peavy (ankle) pitches again this season. "We'll know more when he comes out of the cast. I can't speak for Jake, but I'd much rather have him ready for 2010 than risking more serious injury by coming back too early this year…the focus is with youth now." They won't push Peavy's recovery.
NHL
– The Avalanche have signed F Matt Duchene to a three-year, entry level contract. Duchene was the third overall pick in the 2009 Entry Draft. "To be part of an NHL organization is something you always strive for as a kid. This is the first step, but I know I have a lot of work to do to reach my goal of playing in the NHL." Duchene has a real good chance to stick with the Avs this season, but he'll likely need another year in the minors. The Avs will play him at least nine games, though.
– The Supreme Court of Canada has sided with Canucks owner Francesco Aquilini, dismissing an appeal application from a pair of Vancouver businessmen. Tom Gaglardi and Ryan Beedie wanted Canada's highest court to overturn two B.C. court rulings that rejected claims they should have been included in Aquilini's purchase of the NHL team.
– The Thrashers have re-signed F Colby Armstrong.
– The Flames have claimed F Nigel Dawes off of waivers from the Coyotes.
– The Preds have signed F Peter Olvecky to a one-year, two-way contract.
UFC
– Newly signed TNA wrestler Bobby Lashley was interviewed on ESPN Radio on Wednesday and was asked what would happen if he fought UFC Heavyweight champion Brock Lesnar. After watching Lesnar's fights and studying the holes in his game, Lashley said confidently, "I win."
He elaborated that he wants to fight Lesnar because he's the champ, not necessarily because he's taken a similar path to the world of MMA.
"I'm not going to say anything bad on Brock because Brock is the champion. My sights are set on Brock and I'm not saying that I want to fight him because he is the wrestling guy. I am saying that because I am a heavyweight fighter and he's the heavyweight champ. Eventually, I do want to fight Brock for that title."
Lashley says he already has a game plan in mind to beat Brock, but he won't reveal it before they fight.
NFL
– A federal judge on Wednesday sentenced former NFL RB Travis Henry to three years in prison for financing a drug ring that moved cocaine between Colorado and Montana. Henry, 30, was arrested by federal drug agents last October, just a few months after the running back's release from the Broncos. He pleaded guilty in April to a single count of conspiracy to traffic cocaine. In handing down Wednesday's sentence, U.S. District Judge Richard Cebull in Billings also gave Henry five years of probation and recommended he enter a 500-hour drug treatment program. Completion of the treatment program could knock off up to a year from Henry's sentence. His lawyer, Harvey Steinberg, said that with additional time off for good behaviour Henry could be out of prison within 16 months.
– The deadline for the Panthers to strike a long-term deal with franchise DE Julius Peppers passed Wednesday without an agreement. Peppers will now play under a one-year contract worth at least US$16.7M, creating the prospect for another off-season of uncertainty next year. The Panthers had until 4 pm ET to sign the four-time Pro Bowl pick to a deal that would secure his long-term future in Carolina and free up salary-cap space this season.
NBA
– F Antoine Walker was arrested Wednesday night at Harrah's Casino in South Lake Tahoe, Nevada. The charges stemmed from over $800K in gambling debts. He was led out of the high stakes area in handcuffs by Douglas County police in front of a celebrity-heavy crowd. Walker was in Tahoe to play in the American Century Classic, a celebrity golf tournament. Walker is currently in a Douglas County jail. Bail has been set at $87K.
– The Pacers plan to re-sign F Josh McRoberts, all but keeping G Jarrett Jack as a Raptor.
– The Hawks traded the rights to F David Andersen to the Rockets for an undisclosed second-round draft choice, cash and future considerations.
WWE
– Jim Ross has updated his blog at JRsBarBQ.com. Some highlights:
Edge's Recovery from Surgery: "I talked to Edge mere minutes after his Achilles tendon surgery last week and he had a more positive attitude about returning to the ring than most would. Edge has been faced with many challenges over his career and if any one can return and be as good as they were before they were hurt then it will be him. However, we should all be realistic about this situation as Achilles tendon injuries can be devastating for an athlete that maintains a schedule like Edge. My money is on Edge to return ready to rock, be more popular than ever and perhaps even possibly having a one on one match with Chris Jericho at WM26 which could be a show stealer. Yes, that's all speculation but a guy can dream, can't he?"
Brock Lesnar: "I did a radio interview yesterday on KREF here in Norman which is a sports talk station AM1400 and Brock Lesnar and UFC 100 still seemed to be the topic of the day. I find it unwise for those to think that UFC officials don't love Lesnar for a variety of reasons but specifically for the income he is and will produce. Every great promoter wants and needs a great villain as, especially in today's world, fans are more likely to pay their hard earned cash to see someone get their ass whipped that the fans detest than they will to see their favorite competitor roll over someone."
Seth Green Hosting RAW: "I enjoyed Seth Green's appearance on Raw Monday night and am still waiting for my check for my 'likeness' appearing on WWE's Flagship Broadcast. That's likely as close as yours truly is going to come to returning to Monday night's variety/ sports/entertainment juggernaut to answer a question that many keep asking on our Q&A section of this site."
– WWE will be working with 7-11 convenience stores to promote SummerSlam, according to PWInsider.com. Between this major sponsorship deal, legendary rock band Aerosmith providing the event's theme song and WWE holding the first-ever Summerslam AXXESS fanfest, it's clear they're going all out to make this year's Summerslam a major event, which, if you read earlier posts, is trying to squeeze in as the No. 2 behind WrestleMania.
– As reported earlier this week, Nick Dinsmore has signed a contract to return to the WWE. For those wondering, he is indeed being brought back to the main roster as Eugene as they want him to help mentor some of the younger wrestlers, not to mention add more depth to the roster. Prior to signing on the dotted line, WWE had Dinsmore undergo an extensive drug test to prove he's clean, including providing a hair sample. WWE previously released Dinsmore on September 1, 2007 as a result of issues with painkillers. A SmackDown taping took place that day with him being notified of his release following a company meeting and promptly being escorted out of the arena by security.
– Following his recent surgery former WWE star Elijah Burke is leaving wrestling to finish a degree in criminal justice.
TNA
– TNA Knockout Christy Hemme wrote a brief blog on her MySpace page indicating she will be returning to the ring soon. Hemme wrote;
"Hehe he…
A little birdie told me that a certain firey redhead is coming back to kick some ASS! I will give you one guess as to who that might be
"
Hemme has been out with a neck injury since January.
– As reported last week, TNA fired referee Rudy Charles (real name Dan Engler) in a cost-cutting measure. TNA's decision to let him shocked a number of people because he was popular with management and had been with the company from the start, not to mention that he performed so many tasks for the company. However, the feeling is TNA will simply hire a local referee to replace him, and that others in the office will pick up the jobs he was doing. Although it's been noted they'll have to be trained to run the errands he did. Besides being a referee and involved in timing of the shows, he also sat in on creative meetings. It was also said that TNA could save on transportation costs by using a referee who lived near Orlando.