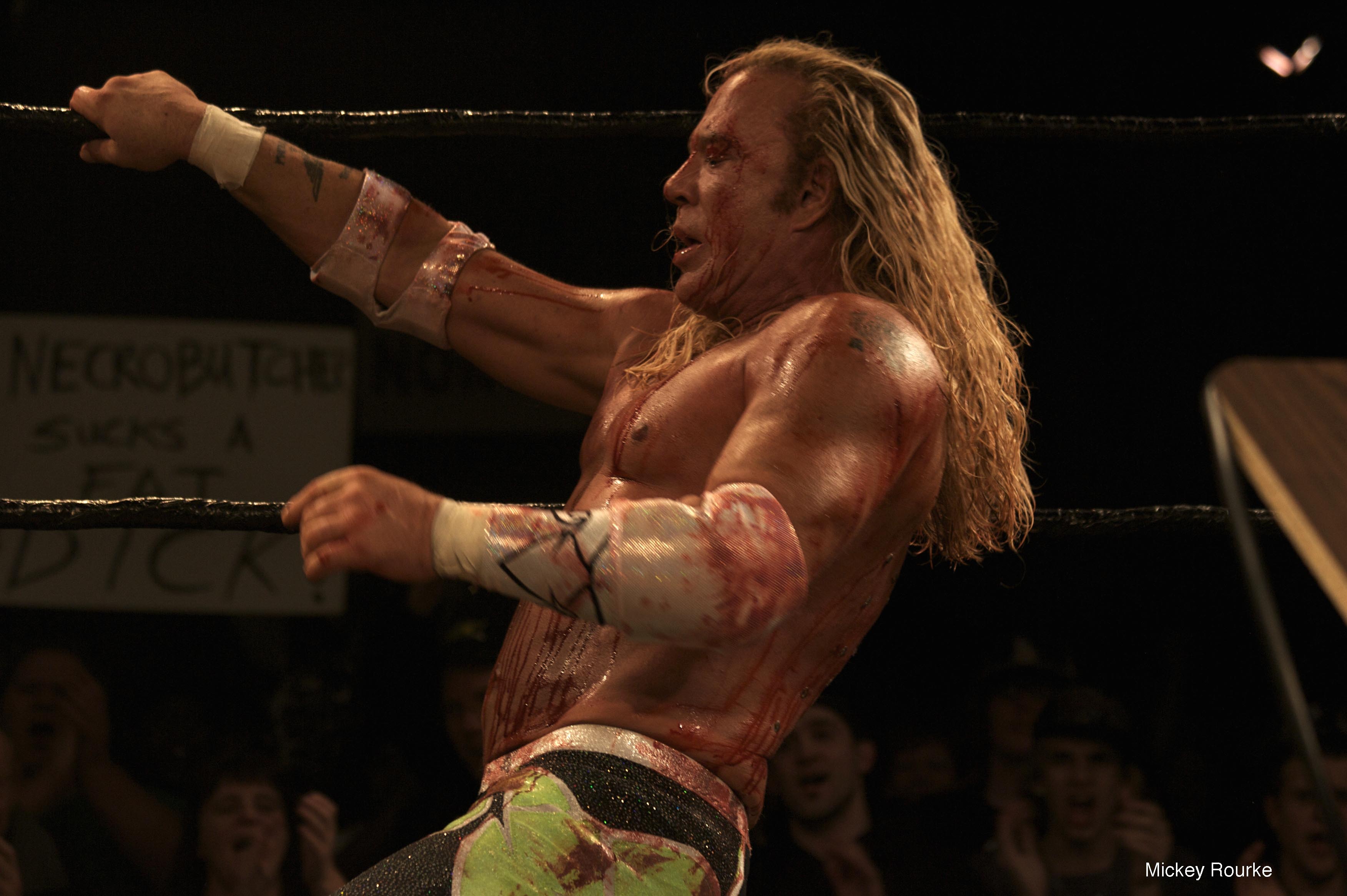 Well, I finally saw The Wrestler, featuring Mickey Rourke and Marisa Tomei. First off, I feel compelled to explain to people what wrestling is. Everyone always asks me, "You know wrestling's fake, right?" Well, it's not, really. It's real inside of a fake sports entertainment job. Just because the match results are predetermined, and most of the matches are, for the majority, pre-meditated, does not mean that wrestling is fake. In fact, it's very real. The Wrestler is proof of what professional wrestling was like in the early-mid 1980′s.
I thought I knew what to expect when I saw this. I knew that this was the story of a physically broken-down, wash-up wrestler. I knew that he was stuck in his wrestling world, and was incapable of finding himself in the real world outside of the ring. And for the most part, it was. What I didn't expect, however, was just how gruesomely real, accurate, and how well depicted the movie was going to be.
Coming into this movie, unfortunately, I had heard many people's stances on The Wrestler. People like Mr. Kennedy, Chris Jericho, JBL, etc. approved of it, while WWE CEO Vince McMahon disapproved. And logically, why not? If you haven't seen the movie, it protrays wrestling as this terrible, brutal, ruthless, animalistic, barbaric job.
First off, the "blading." They show "The Ram" folding a razorblade in half, and taping it inside his wrist tape. When the time comes for him to "blade" during his match, the camera is gruesomely close up as we actually see Mickey Rourke "blade", and the blood flows from his forehead like a faucet. Absolutely disgusting – but, believe it or not, this was commonplace in professional wrestling. In fact, it's their primary method of bleeding in today's pro wrestling.
Then, the match. Remember when ECW was, well, ECW? This is it here. In fact, I don't think ECW could have legally even done this. Randy gets glass shards and staples pulled out of his body after a match against The Necro Butcher. Randy sits in a chair after the match, having barbed wire removed from the cartilage between his ribs. He has staples removed from his pecs (chest), trapezius deltoids and posterior deltoids (back). His opponent is busy having flabs of flesh removed from his forehead, where he stapled himself intentionally. The doctors fumble with their equipment, as they attempt to remove foreign objects from a human body with bloody gashes in it. No detail is left untouched. In fact, I think this scene alone is more disgusting than any of the Saw movies. Absolutely disgusting, but pin-point accurate.
When you see Rourke's character – Randy "The Ram" Robinson – he's an absolute mess throughout the whole movie – physically, emotionally and spiritually. His character is that of literally, every single stereotypical, negative trait that the general public gives to wrestlers in general. "The Ram" shoots steroids into his buttocks – literally, they leave nothing out here, it's full-frontal. He shows physical scars from matches, which he specifically recalls and describes. They show his very poor relationship with his daughter, who he spends a portion of the movie spending time with, trying to atone for a lifetime of mistakes of being a poor father. He also suffers a heart attack, nearly dies, is advised to never wrestle again, and does so anyway.
As with his severed relationship with his daughter, Randy's real-life best friend is a stripper named Cassidy, played by Marissa Tomei. Sadly, she is the closest thing to a real friend Randy has. She gives Randy life advice and acts as a sympathetic ear.
His daughter enters the movie later. Enter the sensitivity scene. Randy attempts to rekindle his broken relationship with his daughter Stephanie (Evan Rachel Wood). Stephanie, growing up without her father, is clearly looking for some kind of relationship with Randy, despite telling herself not to get involved for fear of being hurt again. For those of you who saw Beyond the Mat, you're going to get goosebumps – he takes her to the boardwalk that they used to frequent when she was younger, and it actually looks like the two are going to reconcile in a situation eerily similar to Jake Roberts and his daughter in that movie. Unfortunately, Randy stays out all night, drinking and having sex, and sleeps through a dinner date with Stephanie. When he shows up later that night to apologize, she tells him that she never wants to see him again. It's the last time we see her throughout the movie.
My connection of the movie to Roberts and Funk kick in, especially here. Randy, attempting to make ends meet in order to pay for his stripper, drugs, steroids and rent, is forced to take a job behind a deli counter. The only comedic relief comes here, as he begins to build into it. He does, however, eventually quit, and in doing so, intentionally severs a chunk of his thumb before snapping on his boss and his customers, smearing splattered blood all over his face in anguish.
By the time the Ring of Honor (ROH) part came up, (Nigel McGuinness, Claudio Castignoli, Austin Aries, Bobby Dempsey. I also saw D'Lo Brown and R-Truth), your mentality is totally different – especially so for those who are avid wrestling fans, such as myself. Seeing what Randy just went through, it's actually a very sobering, eye-opening experience. When you attend a TNA show, or a WWE Raw show, especially up close, it's a very weird feeling, thinking that it's quite possible that everything Randy endured in the movie, could be what these guys go through every time they go behind the curtain.
Apparently, the final scene was done in front of a live ROH crowd that had no idea what events in the movie led up to it. In the movie, Randy stands in front of the curtain, about to fight for the first time since his heart attack, as Cassidy pleads with him not to go out there for fear that he may die. He goes out anyway, citing that his world is in the ring.
The final scene is incredible. Randy gives a heartfelt speech calling the fans his "family", and giving life advice. As the match progresses, he begins having chest pains, which were the same he had when he suffered the heart attack in the locker room. Randy fights through two close calls, as he climbs the top rope to deliver his finishing move. The movie ends abruptly with Randy leaping off the top rope to deliver his finishing move, the "Ram Jam", and you are left to guess what happens next. The camera remains stationary to the ceiling from the original angle. No thud on the mat. End of scene. End of movie.
Of course, not having seen the entire film, the fans cheered. Would they have cheered if they had witnessed the whole movie? Highly unlikely. But that was the point. We don't see what goes on before the match, or after. All we see, as fans, is what comes through that curtain when the music hits and the lights flash. Unfortunately, we, as fans, only care about what happens when the spotlight is on them. As fans, what happens when they head back behind the curtain is over is utterly extraneous to us.
To be honest, I thought his daughter was going to be in the crowd during the match or something. Or for Cassidy to be standing at the top of the ramp, fearfully looking on. But no. Nothing like that – this movie was as real as it gets, and in life, often times, there are no happy endings.
So what happens next? Who knows. He could have impressed the scouts that were in attendance. He could have hung himself, just as Chris Benoit did. Maybe they'll find him dead, like Owen Hart, Mr. Perfect, Brian Pillman, or even Steve Bradley, among countless others. Normally, some of the more depressing scenarios would be unlikely. But as wrestling fans, we know all too well that these are not at all out of the realm of possibility.
Growing up as a child, before ever wanting to be an athlete, a firefighter, a police officer, a doctor, or any of those, I wanted to be WWF Champion. Having thousands of people cheer for you as you climb the turnbuckle to taunt, WWF Championship grasped firmly in your hand. But after watching this movie, and looking at some of the wrestling greats that are no longer with us – Chris Benoit, Eddie Guerrero, Mr. Perfect, Owen Hart, Brian Pillman, Davey Boy Smith, Bryan Adams (and dare I say, Jake Roberts soon?) – it's very eye-opening. Guys like Jake Roberts and Scott Hall, who, in their time, were in the brightest spotlight, but have fallen so far out of it that they have turned to a life of addictions, whether it be drugs or alcohol, is it really all that worth it? Is that lifestyle worth it?
Unfortunately, people like "The Ram" were commonplace in 1980′s wrestling. Many people have "The Ram's" lifestyle – drugs and steroids. And unfortunately, those people still suffer today from their mistakes back then. People like Jake "The Snake Roberts", Terry Funk and Jerry Lynn are living examples of this character. Guys who have no business wrestling, who should be retired, at home, living with their families. But they're not. They're on the road, wrestling house shows and working the indy circuits for cheap paychecks because of all of their financial debt early in their careers. It's actually quite sad, honestly. This movie literally could have been titled, "Jake "The Snake" Roberts: The Movie."
Overall, this movie was terrific. The Wrestler accurately portrayed the professional wrestling circuit in the 1980′s – some of which remains very accurate even to this day. Whether or not you're an avid wrestling fan, someone who watches it from time-to-time, or someone who despises it, this movie is an absolute must-see. In fact, at this past weekend's Golden Globe Awards, The Wrestler did very well. Mickey Rourke won the Globe for Best Lead Actor in a Drama for Randy "The Ram" Robinson. Bruce Springsteen won Best Original Song for his gem, "The Wrestler." Marisa Tomei was even nominated for Best Supporting Actress.