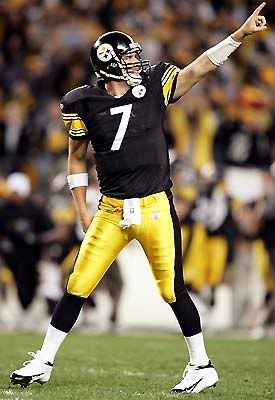 NFL
– Steelers' QB Ben Roethlisberger reportedly underwent an X-ray on his ribs Wednesday. The test was "precautionary." Roethlisberger practiced fully and was not listed on the Super Bowl injury report. When confronted by media, he declined to comment, but said he was "fine." It's worth keeping an eye on.
MLB
– According to the Chicago Sun Times, the Cubs "won't even entertain the idea of renewing talks about RHP Jake Peavy until their ownership situation is settled and that's not expected to happen until late March at the earliest."
– Terms of D'Backs' RHP Jon Garland's contract have been released. He has signed a one-year, $6.25M contract with a mutual option for 2010 worth $10M, with a buyout for $2.5M. If Garland declines the option himself, he'll get $1M. It seems unlikely that Arizona will want to pay him $10M for 2010, so the deal basically becomes a one-year/$8.75M contract. LHP Randy Johnson reportedly offered to re-sign for around $7M, but the team turned him down and now ends up paying more for a guy who's performance isn't up to par.
– According to FOXSports.com, the Mariners are interested in OF Bobby Abreu, but his cost remains a roadblock to a contract offer.
– The Twins have reportedly broken off talks with free agent RHP Eric Gagne and are now looking to trade for a setup man. The Rangers could be interested with RHP Joaquin Benoit undergoing surgery.
– According to the Baltimore Sun, the Orioles "continue to have talks with" RHP Braden Looper. The newspaper reports that Looper was looking for a three-year/$24M deal earlier this offseason, but those demands have likely lessened substantially at this point. The Brewers and Pirates have also been linked to Looper.
– The Arizona Republic reports that the Diamondbacks are believed to be interested in RHP Tom Gordon.
– According to New York Newsday, the Mets are getting closer to a deal with LHP Oliver Perez.
– According to the Los Angeles Times, the Dodgers continue to talk with LHP Randy Wolf, but no progress has been made with OF Manny Ramirez.
– The Angels have signed INF Maicer Izturis to a one-year/$1.6M contract.
– The Mariners have reportedly signed 1B Mike Sweeney to a minor league deal.
– The Athletics have signed RHP Russ Springer, who had been with the Cardinals, to a one-year contract, estimated at $3M with incentives.
– The Royals have signed RHP Oscar Villarreal to a minor league contract.
– The Marlins have signed RHP Kiko Calero to a minor-league deal.
– The Dodgers have signed SS Juan Castro to a minor league contract.
NHL
– Leafs' F Nik Antropov continues to be shopped by GM Brian Burke. It seems like Antropov will be gone by March 4th's trade deadline.
– The Rangers have traded F Dan Fritsche to the Wild in exchange for D Eric Reitz.
NBA
– The Sixers appear to be shopping F Elton Brand.
WWE
– Mickey Rourke will officially not appear at WrestleMania 25. Thank goodness.
– Former TNA superstar Johnny Devine is currently in talks with WWE regarding a potential contract.
– Think you could escape John Cena? Think again. He's due to appear at a SuperBowl XLIII commercial. Lame.